--Previous Message--
: Oh, don't get me wrong, I'm enjoying the
: series,
Its has its moments.
: I'm really excited about a possible
: hard edge Wonder Man coming out of this
: series, taking charge and taking risky
: decissions like this one. As far as the
: sloppy writing where the Grim Reaper fights
: for an hour with Wonder Man all I can say is
: this is editors at Marvel not doing their
: job and that has been going on for awhile,
: Hank Pym suddenly reverts to a wife beater
: in Austen's run, the Scarlet Witch suddenly
: not remembers about her dead twins and goes
: all crazy because her memory was triggered
: by a comment from the Wasp, a subplot where
: Simon is blackmailed by Shield about
: embezzlement in his company never gets
: picked up and explained.
Yeah, that Front Line storyline still bothers me. Maybe thats how he ends up in prison here... doubt it though.
: I have grown
: accustomed to this kind of inconsistencies
: by now.
Though still bothersome and worth nitpicking at times.
: The story is entertaining and so
: far Simon is written heroic, that's good
: enough for me.
That was the high point of this issue. His NO KILL contidition and the fact, IIRC, that he was the first to actually lay his mitts on Osborn since everyone under the sun started talking about getting GG.
More:
http://www.comicboards.com/app/show.php?msg=mub-2009080203172299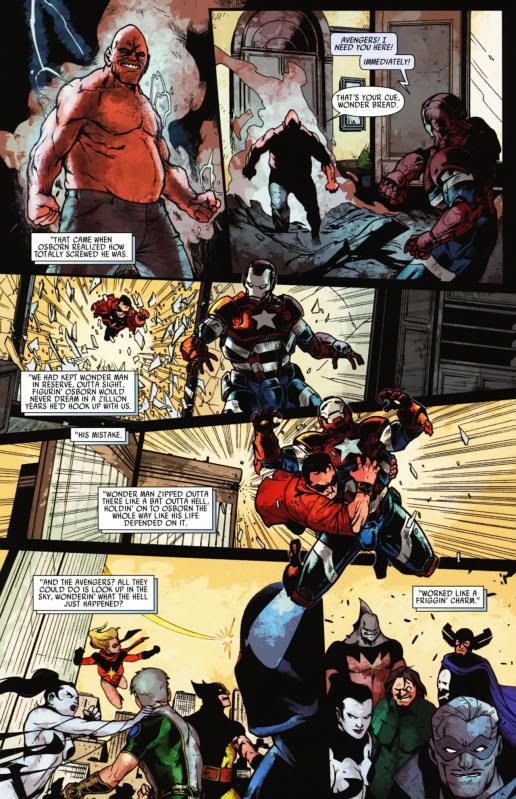 ---