Since Marvel is in control of this series I am sure she will turn up eventually (maybe even spin off into her own lawyer comedy/drama) They brought her in the Hulk cartoons, she even became co-star in the second series of the 90's cartoon.
Speaking of small screen here is what She-Hulk will look like in the second season of the Super Hero Squad show. She will be voiced by Katee Sackhoff for those that didn't know.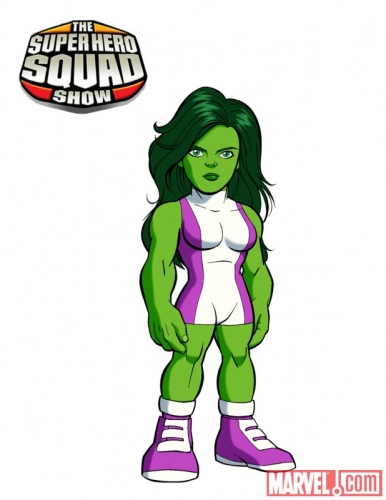 You can watch the
opening titles
to the second season, which She-Hulk cameo's. I am guessing she will be making a few appearances through out the season.
--Previous Message--
: Maybe this is old news but I only just heard
: it today that ABC is developing a new
: Incredible Hulk TV series. They say it's a
: top priority for Marvel's TV division. Could
: this possibly finally lead to a She-Hulk
: appearance ? Wasn't the character created in
: the first place because of rumors that the
: old Hulk TV show was going to spin off a
: female counterpart like Six Million Dollar
: Man did with Bionic Woman ?
:
: Then when they were making those Hulk TV
: movies after the series ended, I remember
: reading that She-Hulk was on the slate for a
: future appearance had the movies continued.
: I'll be very interested to see if they give
: us any hints to Bruce having a cousin in
: this new TV series.
: