The story seemed soooo slow. More of the same set up was not at all refreshing. The art needed more lighted panels. Mak and Sersi, 2 of my faves basically/unfortunately just punched a clock.
What did YOU think of...
Preview: Eternals #3
http://www.marvel.com/news/comicstories.4402.Preview~colon~_Eternals_%233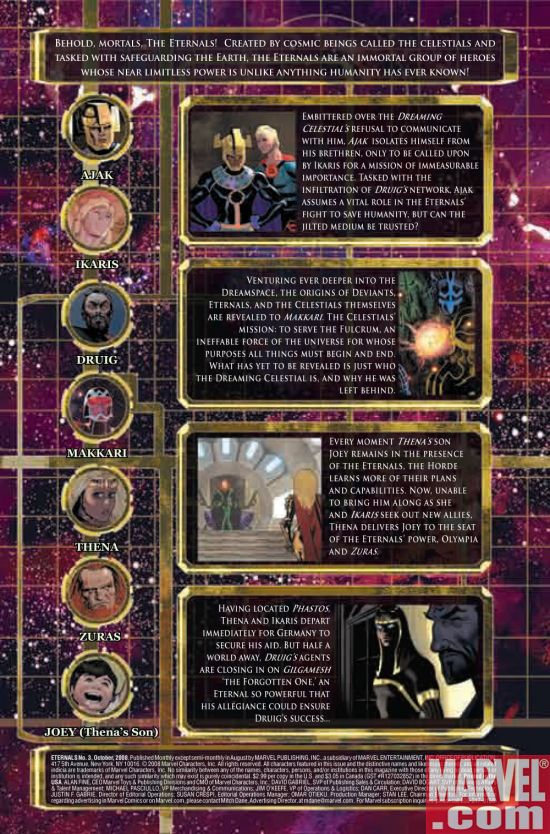 How fair are these reactions...
s
p
o
i
l
e
r
s
Cover: The 2 dont even appear together on. So irrelevant to the story and not very pleasing as a poser cover rendered.
Surprised that Prev Page said 'tasked to safeguard Earth'. Didnt really know them to do that - and a crappy job at that considering all the Earth catastrophes prevented by OTHER heroes with Eternals not even in spitting range. And then Zuras says theyve been doing it since the Dawn of Time. Really? Has this really been their mission statement? Wording seems off.
Wouldve liked more information how the Machines of Olympia maintain the 100 count of citizens or how they count half-breeds like Joey (and his still unmentioned sibling).
Admit to not being fluent with Eternals mythos, but seems almost everytime they appear a take on their origin is told. This issue it didnt seem that revealing so it came across as too, too long. At marvel.com site (rather than #3
) its revealed that the Dreaming Celestial was imprisoned below Diablo Mts which was news to me. And the YEAR of the 2nd Host shouldve been made clearer. They make it clear a Celestial cant be killed but how exactly does discharging or silencing Arishem compare? Also, it appears this story implies God is no longer a possibility for the One-Above-All with its manipulative motives concerning the Fulcrum and the Horde. Take that religion.
The fate of Joey is intriguing. But Zuras' inability to read a codex (not sure if a real world codex) made him look unfairly impotent; especially, with Sersi using such a advanced computer later in the story. Also, Zuras' tour got boring and yet thankfully included the Hulk-bot from the past (dont recall if it was destroyed) to treat any Marvel Zombie. Wish there were other recognizable trophies.
The Eternal hiring Stoyanovish was effectively creepy but whose name escapes me - not my fault - should have been named if only in the Prev Page.
The Eternal cross examining Stoss was obviously Thena but do NOT think that the other woman there was Ikaris, even though Prev Page infers Ikaris is with Thena. More naming unfortunately missed.
The Eternal Ajak (unclear if before his Incredible Herc appearance) reaquainting with "O Guerreiro" came across as purely redundant and not very exciting. The cliffhanger was practically a repeat as last issue, minus the new Gilgamesh threads.
---
Related thread:
http://www.comicboards.com/app/show.php?msg=comicbattles-2008080905373580
---