What did YOU think of it?
Click Here For Preview: Preview: Ghost Rider #27
s
p
o
i
l
e
r
s
Thought the art was horrible, except for the splash where Sister Sara see the GR history collage. How 'bout you?
Was he the worst (drawn) character - or the best or in between?
Sara gets a lot of spotlight here. What didja think of her 'promotion' to the New Caretaker?
Caretaker must have made his 'deal with the devil' after he got his position since Sara didnt sign up for any evil pact, eh? Was Caretaker's fate agonizing enough for you?
How do you rate the GR/Blackout fight (Do you want to call it a fight
)?
What do you think Danny Ketch's fate will be?
Zadkiel made an impressive appearance though a bit of a Archangel knockoff. What did you think?
SPOILER LOOK -->
http://i38.tinypic.com/349a3km.jpg
---
---
---
[MOD MOVED THESE THREAD TO HERE.]
Posted by emerick-man on October 20, 2008, 6:01 am
72.38.208.237


Ghost Rider 28
http://www.marvel.com/news/comicstories.5374.Preview~colon~_Ghost_Rider_%2328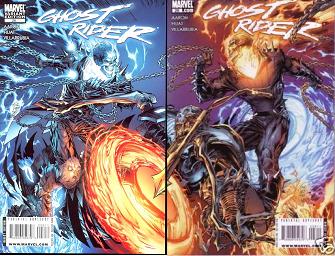 Did anyone else:

-buy both lacking covers to make it a fulfilling full cover?
-find the art uhhmm... not capture Blaze or Ketch aesthetically
-like the use of a horse mount for this other version Ghost Rider?
-feel that retconning the original Ghost Rider to always being called Phantom Rider pointless now?
-see this partial use of Ghost Rider sight in a previous Marvel story?
-have high hopes for Sara as the new Caretaker?
-notice Blaze didnt recognize the Tibetan GR but then knew his name, Nima?
-find the nun and the naked guy funnY?
-feel the issue moved at a decent pace?
-know about Johnny's wife and kids??!
-enjoy what theyre doing to Ketch?
-believe Ketch and/or Zadekiel will die at the arcs end (for a long comic book time)?
-think of this avatar thing as a redundant variation of the GLC
   (and, now, Immortal Weapons and possibly Khonshu's 'New Knights')?
-read these related, recent, GR questions at comicboards:

http://www.comicboards.com/app/show.php?msg=mub-2008101921490613

---
---
This website, its operator, and any content contained on this site relating to Champions of LA are not authorized by Marvel Comics. This site is not sponsored, approved or authorized by Marvel Comics. The opinions of this site are not necessarily those of Marvel Comics and this site is not an authoratative voice of the views of the Champions of LA and characters and situations as written by Marvel Comics. This site serves as a non-profit scholarly work which reviews, promotes, and documents the elements of The Champions. in comic books and other media during the 20th century and beyond. All ideas in this site are expressed as a continuation of thought covering the pop culture associated with The Champions of LA. These thoughts are not necessarily the ideas of Marvel Comics. Some illustrations and words are the creation of others that may or may not have appeared in other publications or websites. Their inclusion in this site is not intended as an infringement of their copyright in any way, but rather is done in the interest of documenting and reviewing pieces of pop culture "comic book" history. The Champions of LA, Angel, Black Widow, Iceman, Hercules, and Ghost Rider and other related properties and images are � by Marvel Comics.


---
---