The Old Ink-Stand
From the time of the itinerant scrivener with his ink horn to the modern fountain pen many forms of ink holders have appeared.
This article will especially discuss Early American "Yankee" ink stands, some of which I have in my collection.
Craftsmanship, especially in the land of Yankee notions…Connecticut, where individual manufacturing was so extensively carried on in the eighteenth and nineteenth centuries, was, in large measure, the means of livelihood quite as much as the pursuit of agriculture. In some cases an unconscious, crude art was mixed into the craft, and that is why a great many articles of antiquity are appreciated and sought for now. The commercializing of the early work was by force of circumstances necessary to the people.
This is readily evidenced by examining the credit side of almost any account found in old ledgers of early merchants throughout New York and New England, where payments for commodities purchased were discharged by the exchange of articles made by hand by the debtor. Axe-helves, woven cloth, linen, shoes, hats, pottery, hand blown bottles, furniture, chairs, and even soap stone ink stands and goose quills were given in trade and again sold to other customers.
While recently examining an old ledger of a Fairfield County (Connecticut) merchant the following entries were observed:
September 4, 1802 Squire Beach
for 400 goose quills…..4/ York Money
December 26, 1816 David Middlebrook, Dr.
One stone ink-stand…1/3
August 18, 1817 John Turney, Dr
One ink powder….10d
Reference to others would doubtless yield many similar entries, as the "art of writing" demanded proper tools and equipment with which to record the many requirements of Colonial days when the necessary process of correspondence , the law, and the Record Office were more laborious than in this day of the typewriting machine.
Various styles of Ink Holders
These containers called "ink-stands" were produced by hand. Their shapes, sizes and the material of which they were made, varied quite perceptibly according to the individual notions and artistic ideas of those who made them. In places where potteries flourished, that neighborhood would be apt to possess earthen ink-stands. The pewterer's trade was also responsible for producing some very handsome examples along with the other different pewter utensils now so zealously hunted; and he who dwelt in the vicinity of a quarry or place that yielded potstone, chlorite, steatite or what is commonly known as "soapstone" or soft serpentine-tale, would usually take advantage of the same opportunity the Indians did, and carve out enough chunks of it to make ink-stands, bowls, small pots and foot-warming slabs. These he would either sell or use for barter at the "store" for his other needs.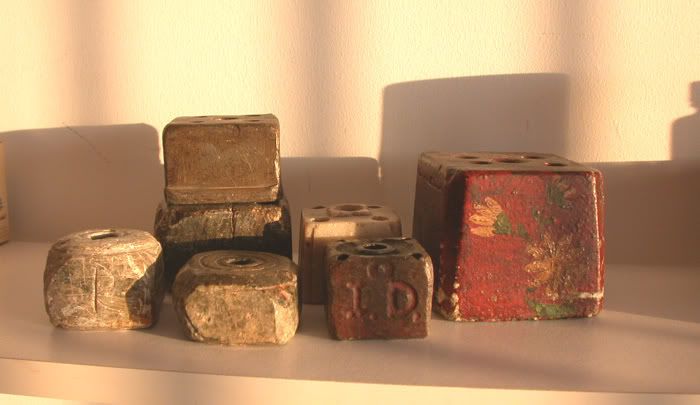 A variety of hand carved soap stone ink-stands in my collection, some carved with initials and patterns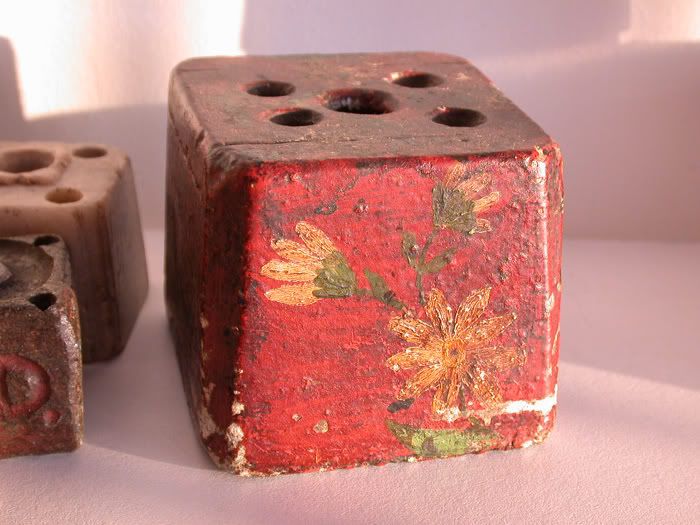 Hand painted version with floral pattern 3" x 3" x 2 ˝" tall.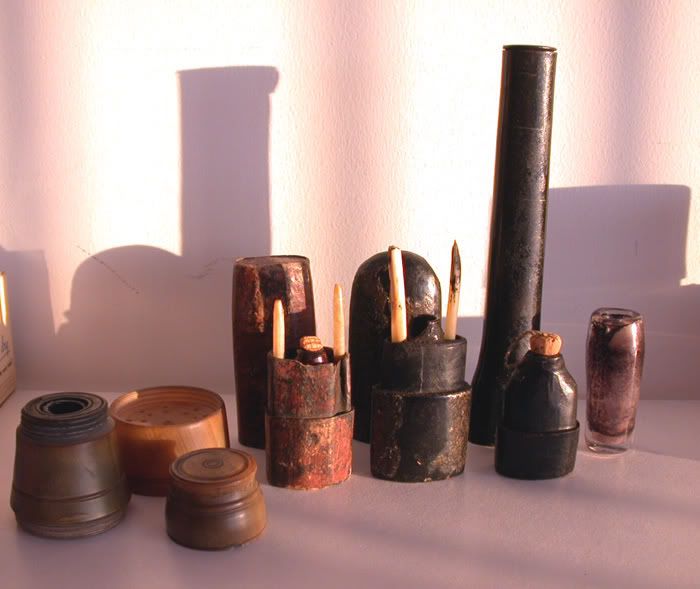 A horn ink traveler on left containing ink well and sander on bottom half. The others are made from paper mache covered with boiled leather.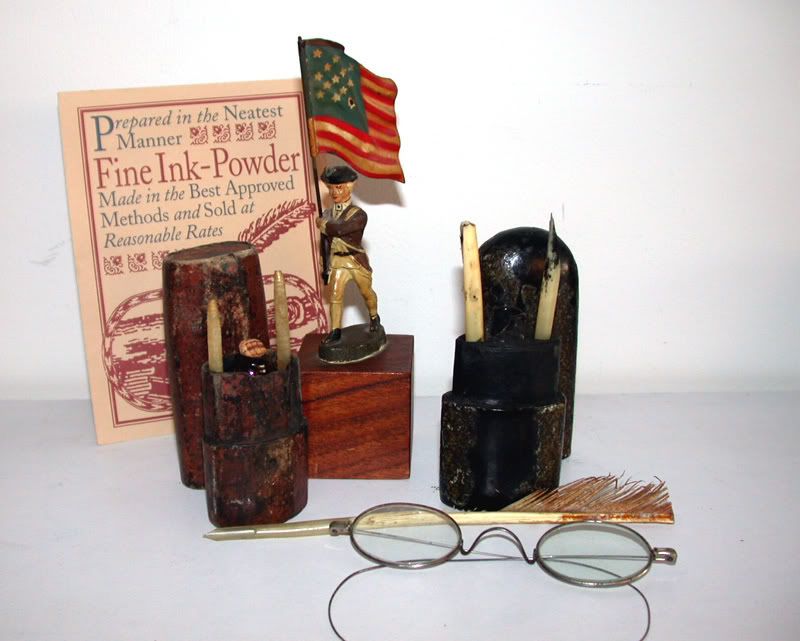 Early leather covered ink travelers contained a small corked ink bottle and room for a few quills.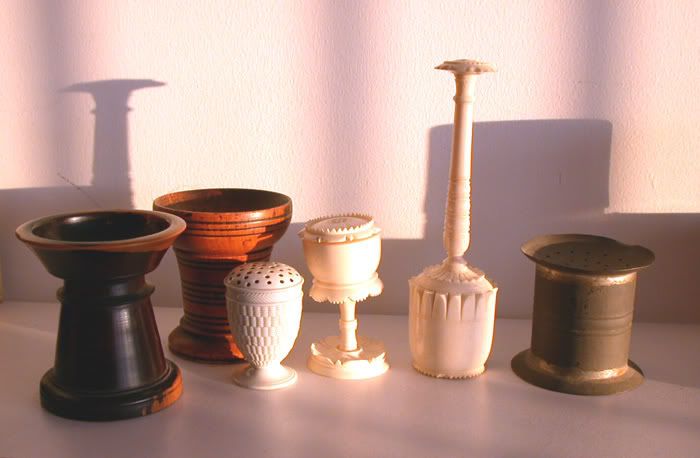 Ink sanders: turned wood c1800, Wedgwood Basketweave c1890, carved ivory c1800 and formed tin c1840.
The majority of the early ink holders were made of this pot-stone or chlorite soapstone. It differed in texture and color according to the locality from whence it came. Some were dark green, others brown or reddish hue and some were nearly black. In Connecticut the best came from Newtown, where it was easy to work. Softer steatite was obtained from Bristol and some soapstone beds were found in the south-western part of the state bit its quality was not as good as found in other places.
Soapstone quarries
A fair quality, though not the best, came from the south-eastern corner of the town of Somers, a place called Soapstone Mountain where it was quarried for many years. The bed was located on the eastern slope of the mountain about 150 feet above its base. It was also used for hearth-stones. The Indians are said to have successfully procured it for their pots from Southington Mountain, and nodules of it of fair size have been found in the bed of Roaring Brook Gorge on its eastern slope.
The Newtown soapstone was of a species that only required shaping on a lathe or with a knife and was of a dark greenish color and unctuous to the touch. Ink-stands of this are now occasionally encountered and two of them are illustrated along with a common pottery bottle turned out by the Bridgeport Potteries in 1814 at a cost of 4/ per dozen.
Early pens and ink
The quill was the only tool with which to write. The steel pen and blotting paper had not yet come into existence. Ink of the home-made variety was produced in several different ways and tints. The wonderful black ink which has lasted so long on some of our old treasured documents was doubtless a mixture of nut-galls, lampblack, vinegar and water and old rusty hand-made nails thrown in. Some of the merchants and officials of Colonial times were extremely careful and fussy about their ink and at this late date it is, of course quite difficult to unearth the secrets of their concoctions for this important fluid.
references: Antiquarian April, 1928 by Louis F. Middlebrook