Parker Pen Company – over 100 years of ink blotters
George S. Parker established the Parker Pen Company in 1888 and quickly received numerous patents for improvements on ink feed and slip cap designs. Mr. W. F. Palmer became a partner in 1891 and soon started an organized advertising program in local and national newspapers to promote Parker pens and the Lucky Curve.
At this time among popular pen related companies using ink blotters were Spencerian, McKinnon, Wirt, Mabie Todd, Conklin and Holland. All of these companies used newspaper advertising to a great extent. This was the primary means of advertising to reach customers…the greatest number of educated people that could actually read and write. However, newspaper advertising had to be maintained on a frequent repeat basis to achieve the desired effect of building the Parker name. Daily newspapers were read one day, used to stuff shoes, wrap fish and start kindling in stoves plus some convenient applications in the outhouse.
It so happened that the Parker Pen Company's first manufacturing was actually George's bedroom in a small apartment at the Hotel Myers on Main Street. Located on the first floor was The Janesville Daily Gazette which was also a job printer and publishing business. George was very familiar with the value of advertising because of his duties with the Valentine School of Telegraphy. His friends at the Valentine School and the Gazette no doubt educated him on the value of advertising that had one major rule…."often and everywhere you can." The Gazette very well may have been his first supplier of advertising ink blotters.
The oldest Parker ink blotter in my collection dates to about 1898. This blotter illustrates the Jointless Lucky Curve "The Success of the Pen Age" featuring primary selling points of the Lucky Curve feed, the "spring lock" ( design of feed securing into the section) and the "can't break cap" which was his 1898 patented slip fit outer cap.
The value of giving an advertising ink blotter to a customer was pretty obvious. A convenient size for pocket, checkbook or diary was viewed almost every time the owner used their fountain pen. The use of Parker ink blotters gave a positive impression every time it was used. Utilizing a calendar guaranteed that the blotter would be kept as a useful product, giving it an extended life to further the value of the advertising.
The Jack Knife Safety ink blotter has a calendar from May, 1917 to April, 1918. The advertising message proclaims the ease of use with the button filler "I press the button and fill myself in 2 seconds" also "I am Two Pens in one, a Self Filler Pen - a Safety Pen" The message here clearly targets the modern state-of-the-art fountain pen filling system. Gimmick and novelty filling systems were abundant, most popular was the eye dropper system which had an inherent messy procedure. Most novel and a major filling system competitor would have been the Conklin crescent filler. There may have been many other Parker ink blotters prior to the introduction of the Duofold in 1921 but I have yet to find examples.
The introduction of the Duofold in 1921 was a major marketing risk for Parker. Marketing tests and dealer evaluations was extremely positive and a massive national advertising campaign was organized. Newspapers, popular magazines and of course the essential humble ink blotter was included as promotional tools for dealers and customers.
Parker prepared advertising materials for dealers which included the beautiful two color graphics of the Duofold in their trademark orange and black design. Perhaps early in 1921, prior to the blotter designs becoming available some dealers used the Duofold line art only using popular themes of the day such as this owl and Indian Maidens which was one of a series of six different views. Full color ink blotters were very inexpensive, costing about $$9.00 per thousand so this was affordable to every pen dealer. Today we find vintage Parker ink blotters using graphics of the pen only from dealer ad mats provided with the store adding their own text and design. Ink blotters with full Duofold and imprint text was also provided and the dealer would simply have his printer add his store name or Parker would print this free with orders. In all cases the Duofold ink blotters were lithographic printed with the paper bonded to the blotter paper. This allowed for a more brilliant illustration of Mandarins, Jades, Black and Pearls and the beautiful Pastels. Prior to Duofold blotters the advertising imprint was direct to the blotter stock and are more scarce due to the fragility of the paper.
Looking carefully at the Duofold pen illustrations one can approximate the date of issue.
Notice the progression of Duofold advertising with the addition of the "Golden Girdle" cap band, the Lady Duofold in 1923 with wide gold band for engraving, the Duette pen and Big Bro pencil in 1924. Moire and Petite Pastel ink blotters were introduced in 1926 to further build sales to ladies. December, 1926 desk sets were introduced with ball and socket action proclaiming "Like two pens for the price of one".
Parker advertising ink blotters were prolific up to about 1932. I have yet to find any that advertise the Vacumatic, however I have seen one that advertises Quink ink. Curiosly, the demise of Parker ink blotters may have been with Quink ink advertising stating…"you will never need an ink blotter again.!"
It was not until 1997 when Parker started to use ink blotters once again. Blotters were used to advertise their new Penman ink and also as a gift insert in the Frontier and the Phileas fountain pen. Phileas is a Waterman product as they were also owned by Gillette at that time.
Today ink blotters are a popular collectible and very inexpensive unless you are bumping heads with other pen collectors looking for vintage fountain pen and related advertising.
© 2008 Len Provisor
Some of Parker's earliest ink blotter and post card advertising.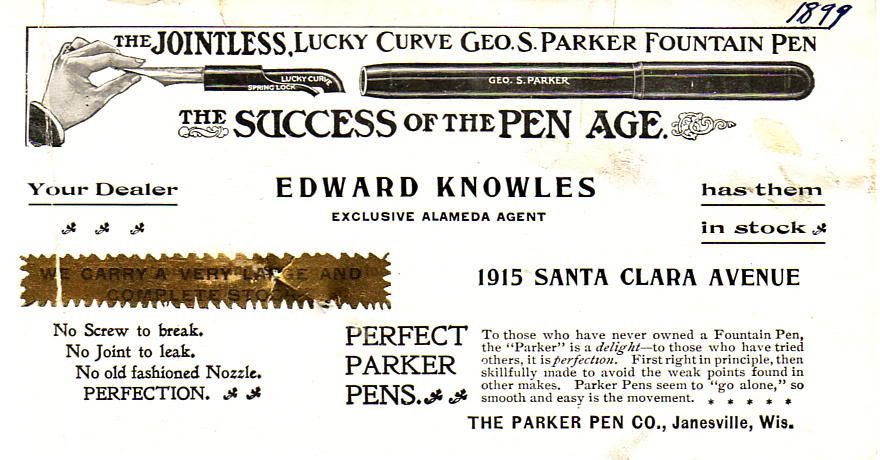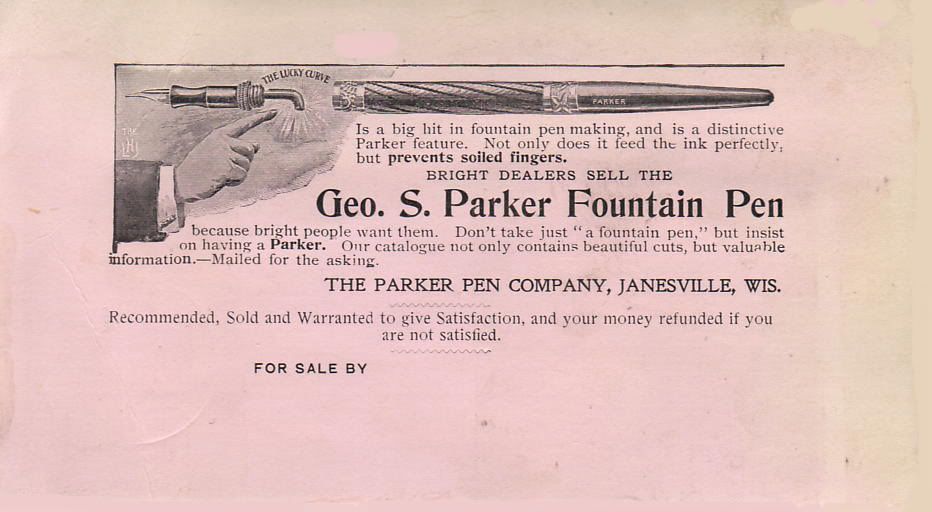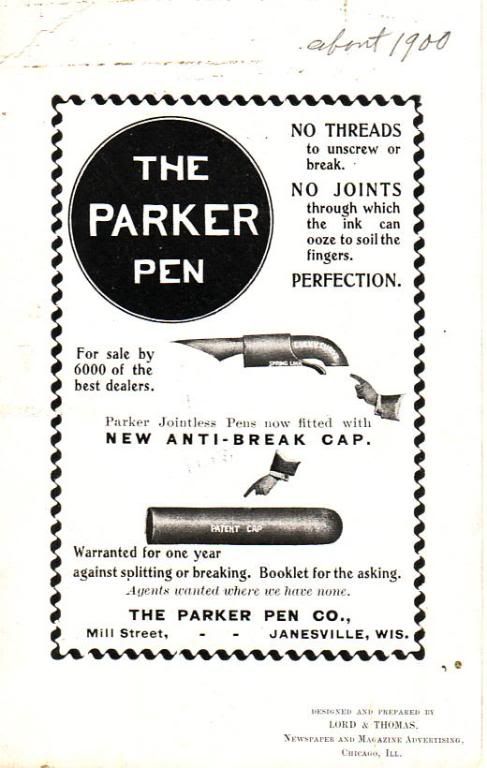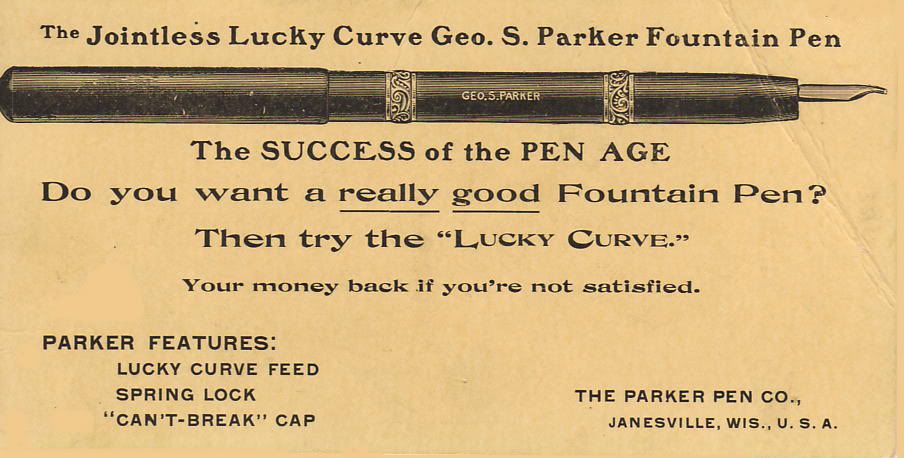 Brochure c1910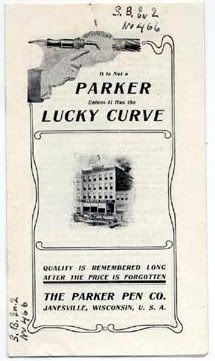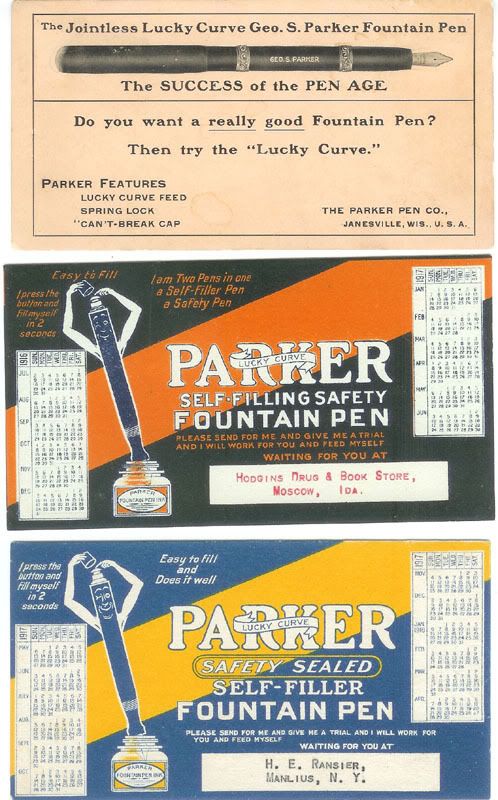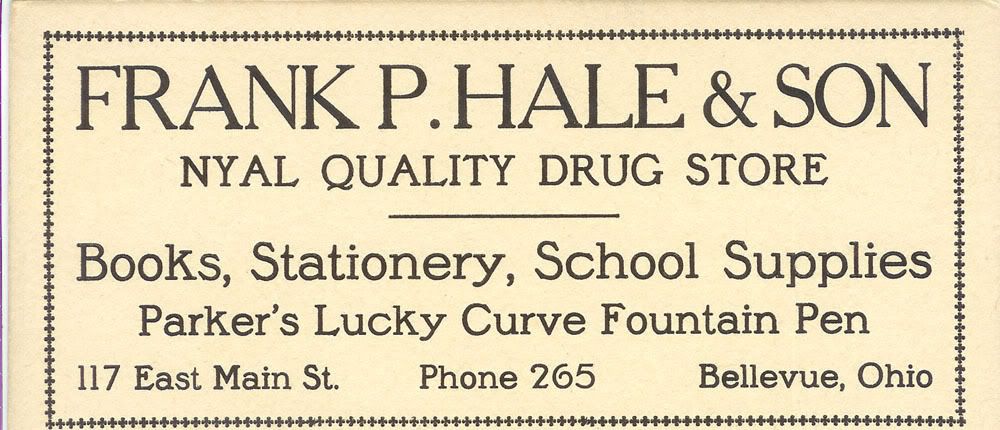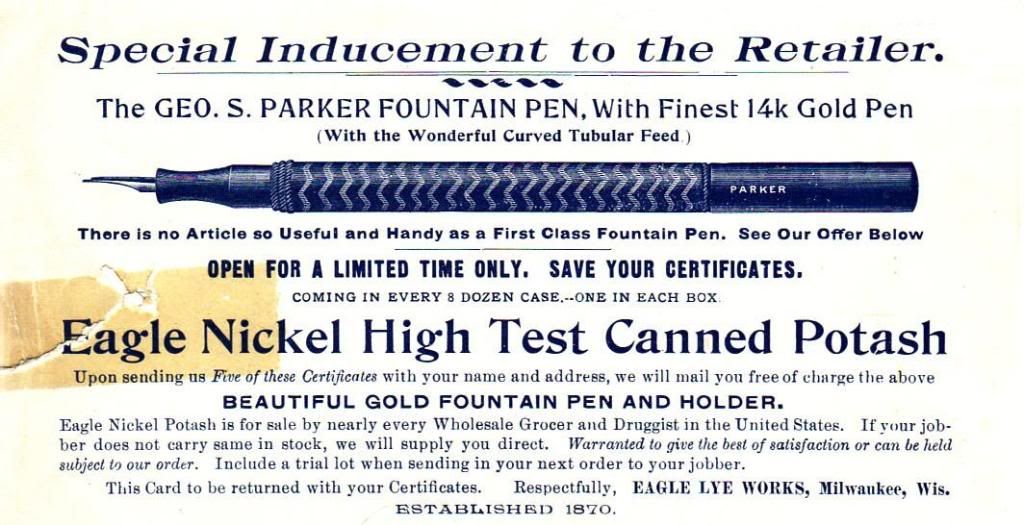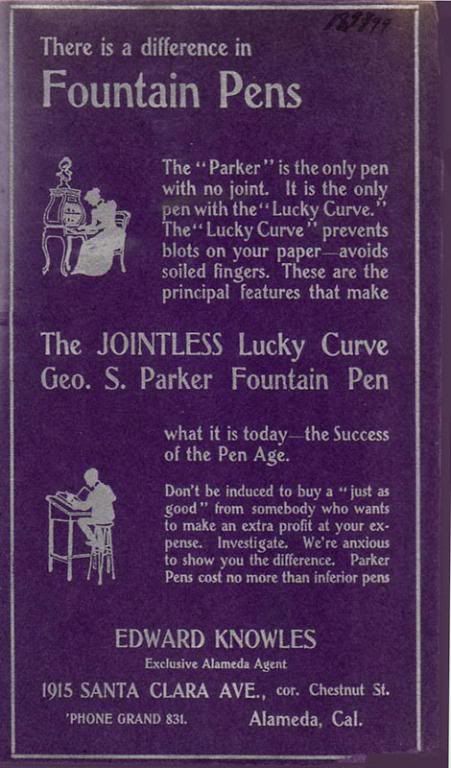 1910 Stuttgard Germany post card




1911 Stuttgard envelope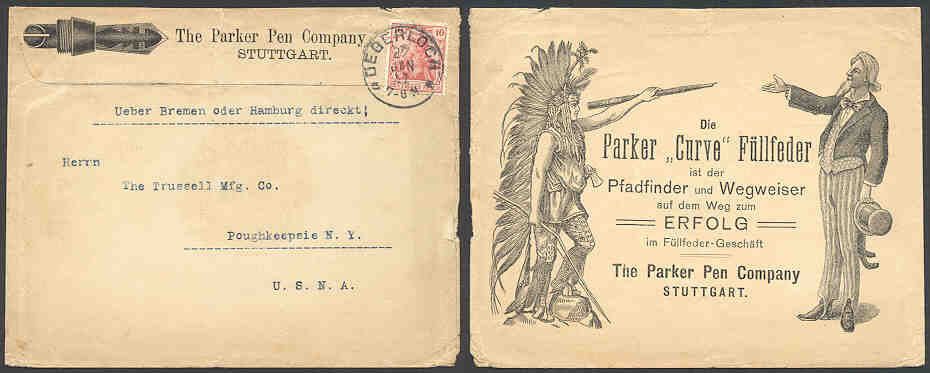 1903 Lucky Curve Accident Policy




Post 1921 ink blotters

Parker's first desk set c1922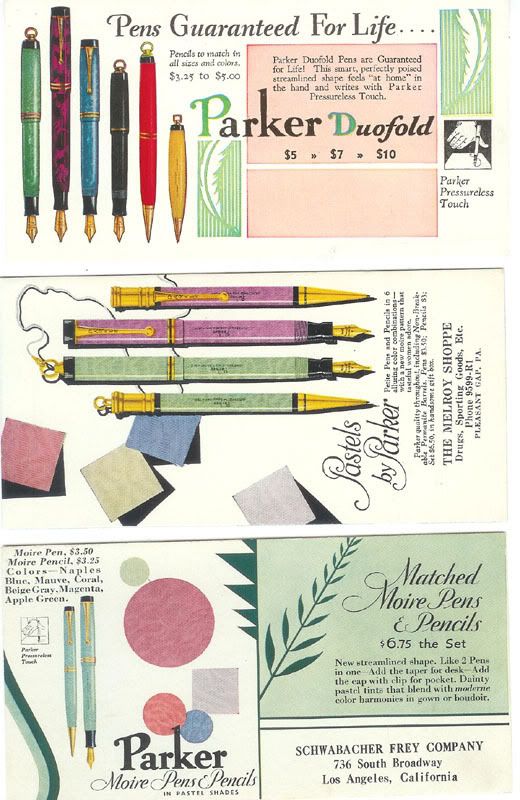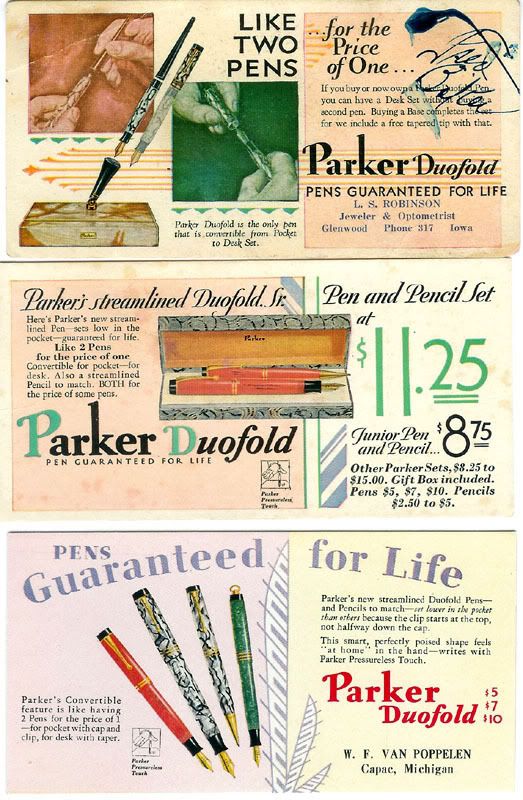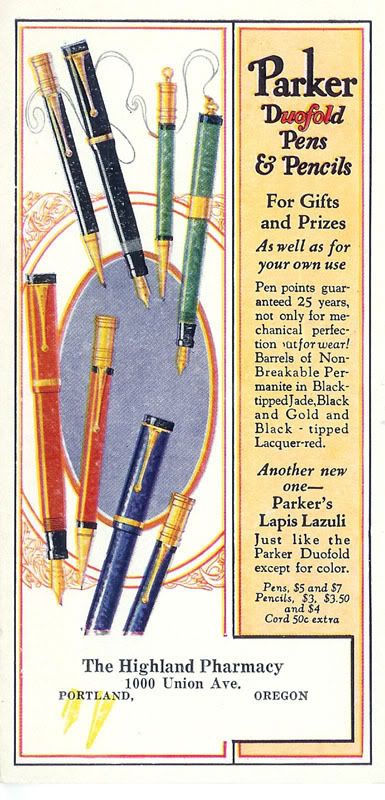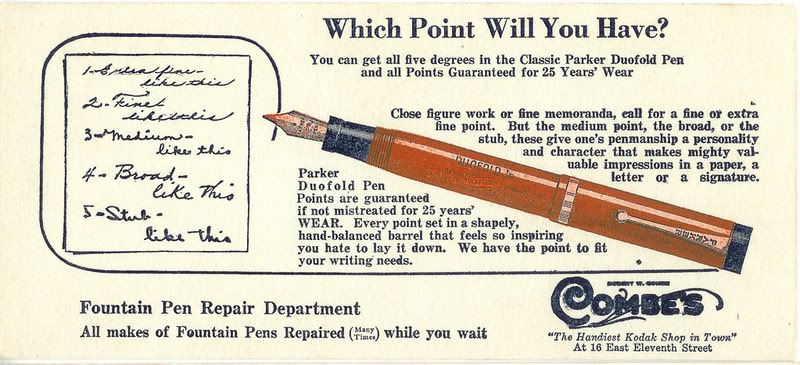 Quink ink blotter – probably the very last blotter made by Parker 'til I came along….




1985 Commemorative post card




1933 Golden Girl by Rolf Armstrong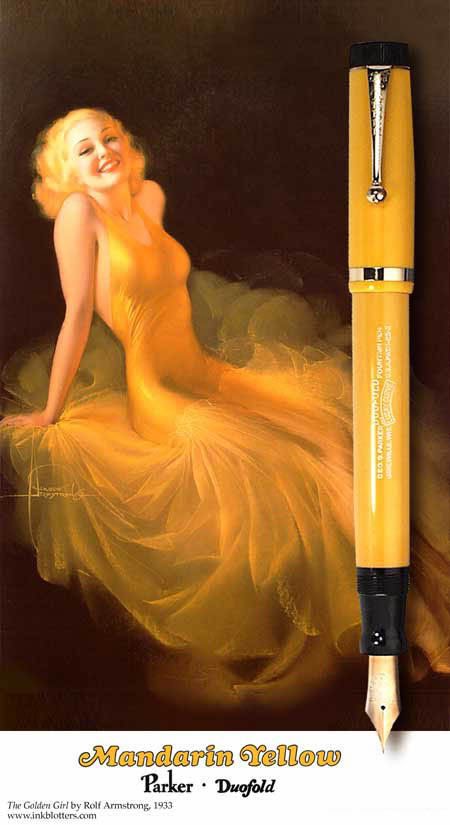 1942 Yankee Doodle Dandy Girl by Rolf Armstrong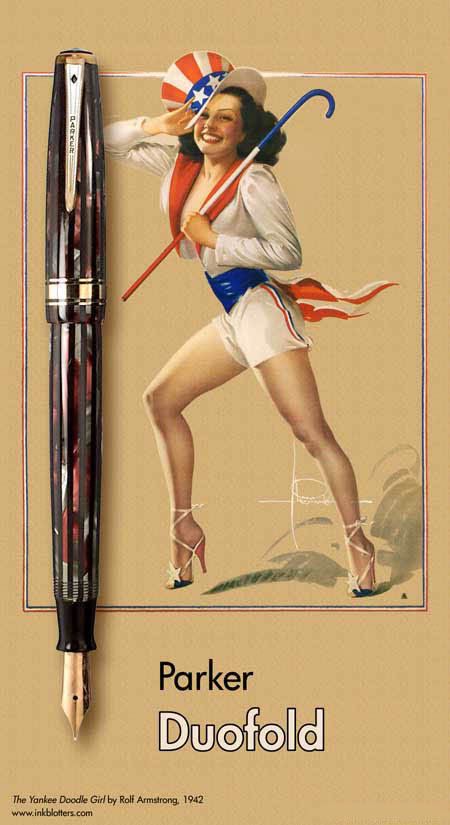 Used as inserts in Parker Frontier and Waterman Phileas retail kits