Wahl Pen and American Illustrator Rolf Armstrong
I happen to notice a nice Wahl desk pen at auction and the graphic design is a nice early 1929 pin up lady created by my favorite illustration artist Rolf Armstrong (1889 – 1960).
Rolf Armstrong was considered royalty among the greatest illustration artists in America. His pin up graphics of ladies with stunning beautiful faces and movie starlets on popular magazines starting in the early 1900's riveted the attention of the public and the newly growing movie industry.
A few years ago I designed a few attractive ink blotters using license free graphics and dated them to
The Yankee Doodle Girl 1942
By Rolf Armstrong along with a 1942 Parker Duofold
By the way, her name is Jewel Flowers and this was Armstrong's most patriotic image introduced at the War Advertising Conference for a 1944 Brown & Bigelow calendar line. He called her Missy and she called him Skipper. Jewel even sported a bracelet engraved with the words "If lost, strayed or stolen, return to Rolf Armstrong."
I sent some of these ink blotters and posters with thanks to Jewel a few years ago and she was quite amazed…after all these years.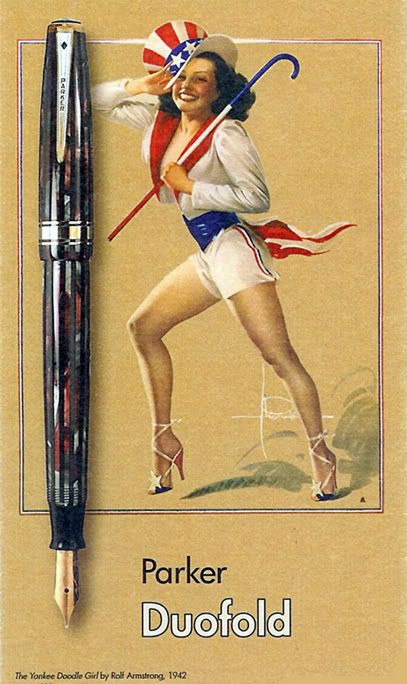 another design I created was The Golden Girl 1933
by Rolf Armstrong along with a 1933 Parker Mandarin Duofold
Her name was Adele Kovalska and she posed for Rolf's first full-length portraits, this appeared in 1934 as, of all things, an ad for RCA radio tubes. A friend of mine happens to own this original pastel which I visited a few years ago. The moment I saw the painting glowing under soft spot lights I knew she had to go on my ink blotters. ☺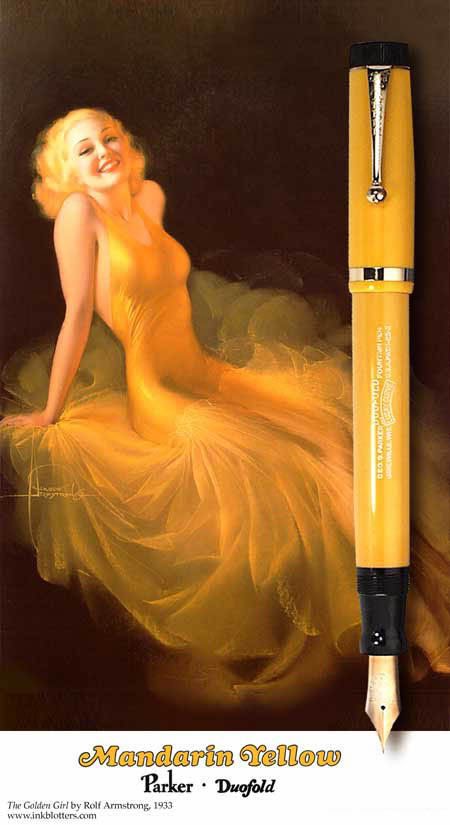 Now comes Dea Jamel Smith, she was a petite dancer from Julliard who had the face and the figure of the twenties. Previously Rolf had rarely shown so much as a bare knee, however he depicted her on a March, 1929 cover of College Humor magazine in a short black skirt and black stockings, which, in case they were not already the focus of attention, were marked by a prominent run up each leg. The title of this portrait was "Hello Everybody" and was a national sensation.
Later this image became Brown & Bigelow's best selling calendar in 1931 and her image was furnished by Rolf to several other advertisers. Here is image of a B&B ink blotter.
Now comes the pen connection.
One of Rolf's clients was Chicago-based Wahl-Eversharp Pen Company.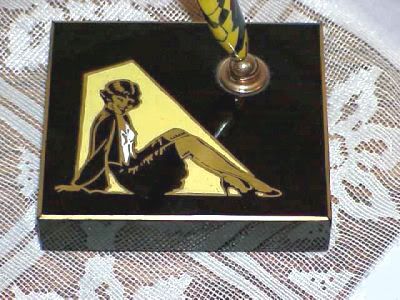 above images stolen from an ebay auction, a friend of mine owns one but didn't have the image.
Fascinating book available from amazon.com
Pin-Up Dreams: The Glamour Art of Rolf Armstrong
© Len Provisor 2008