Flea Market adventures
I started to visit flea markets as a serious pen hunter when I decided to arrive a few hours before official opening of the gates and paid $10. extra for the "early buyer" pass at 6am instead of 8am. One flea market was only about 15 minutes from my home, another was a far as an hour or more drive so I would have to leave by 4:30am. This was totally nuts but I was also having fun. In those days, I would find a lot of pens and come home with no less than one or two dozen every trip and often a lot of other nice ephemera such as inkwells, blotters, pen and ink related materials.
Other flea markets would charge as much as $20. to $50. for early entry and I actually paid that for many years until some dealer friends would see me standing in the line and just tell me to hop into their truck so I could enter on their own pass. As an early buyer it always made a difference because the pen buyers were always first in line. There I was, and everyone knew I was a real serious pen buyer because I even had that stupid 3" button that said I BUY OLD FOUNTAIN PENS stuck on the front of my cap…and it worked. Sometimes in a very crowded booth I would see the owner and just point to my cap button…I can only imagine what he was thinking. By the way, some of the dealers themselves would also hunt for pens and visit other dealers before the early buyers even got in the gate.
One black morning in the dead of winter with the mercury diving well below freezing I arranged to met a friend I had invited who was visiting from Israel. He always wanted to go to an American flea market so I invited him to my County Fairgrounds Flea Market. He was a visiting professor of Managerial Economics at Northwestern University and accustomed to nicer comforts and surroundings, quite a departure to hunting fountain pens in a frozen mud field in the black of night under a full moon, and I told him to be there between 5:30 and 5:45am and be sure to really dress warm.
Standing in line I see this big stuffed Michelin Man approach from the parking lot, compared to the locals he was so bundled up he looked like an overstuffed pillow in an oversized down jacket with only his eyes peeking out from the hood. I guessed right, it was him. Finally we're in the gate and with flashlights in hand we first go to the stalls that are set up in three exhibit buildings. Some dealers may say they have pens but are not unpacked yet, so it is important to not pester him when he is in a hurry to unload. I always ask if I come back in 1 hour would he hold them on the side for me and I make a special note of where he is located because after a while every stall looks exactly the same and you'll never find it again. That has happened more than a few times ☹
We then head outside with the sun just rising and we travel up one aisle at a time. I would go to the furthest stalls figuring my other friends may have started closer to the gate and may not have reached the far side of the field yet. Believe me, there is a weird strategy to this science of hunting pens and avoiding your friends at the same time. If I see a friend coming up a particular aisle I would immediately jump ahead of him to the next aisle to try and stay ahead. They would do the same thing.
My friend wants to linger but I tell him the first pass around to all the stalls is looking for pens only and then we can swing around and make a second or even third pass at a slower pace. The reason we do this is because some dealers are still unloading boxes of junk for a few hours, well into the morning and you never know what may be placed on the table as late as 10 or 11am. Finally, by 8am when the $3. ticket crowd is let in the gates, we are done for the day and meet at the cafeteria in the barn for a hot coffee and a donut meeting with other pen collectors comparing our finds. We all say our goodbyes saying they are going home to go back to bed because there was nothing left to find. I usually notice that everyone leaves going out a different door and heading in different directions. This is a ploy. They are not going home, they are each hitting the aisles once again to find those pens that are unpacked later in the morning.
I don't really recall what we found that morning with my friend from Israel, but I made it a point to be sure he saw every pen on every table and he bought a few. As we were leaving he said to me…"I don't understand…our country is thousands of years old and we never see so much stuff at a flea market, your country is only a few hundred years old and you have tons of stuff all over the place. Where does all this come from??" I explained how it is an American tradition to never throw anything away, to keep everything in our basements because someday it may become valuable…☺ Then we recycle everything at the flea markets and it goes right into someone else's basement because people think…it may someday be valuable.
A few days later my friend happened to call on an antique store I usually visit. The owner recently said he had two unusual old pens he would bring to show me. They had an unusual wire sticking out of the pen to use for a filler. My friend happened to stop buy and the dealer showed them to him and mentioned he was holding them for me so my friend called to tell me. I told the dealer to sell one to my friend and hold the other for me. The pens were two minty perfect celluloid Hartline pens from the 1930's.
I was very happy that my friend was thrilled to find this quite rare pen for his collection.
The Hartline fountain pen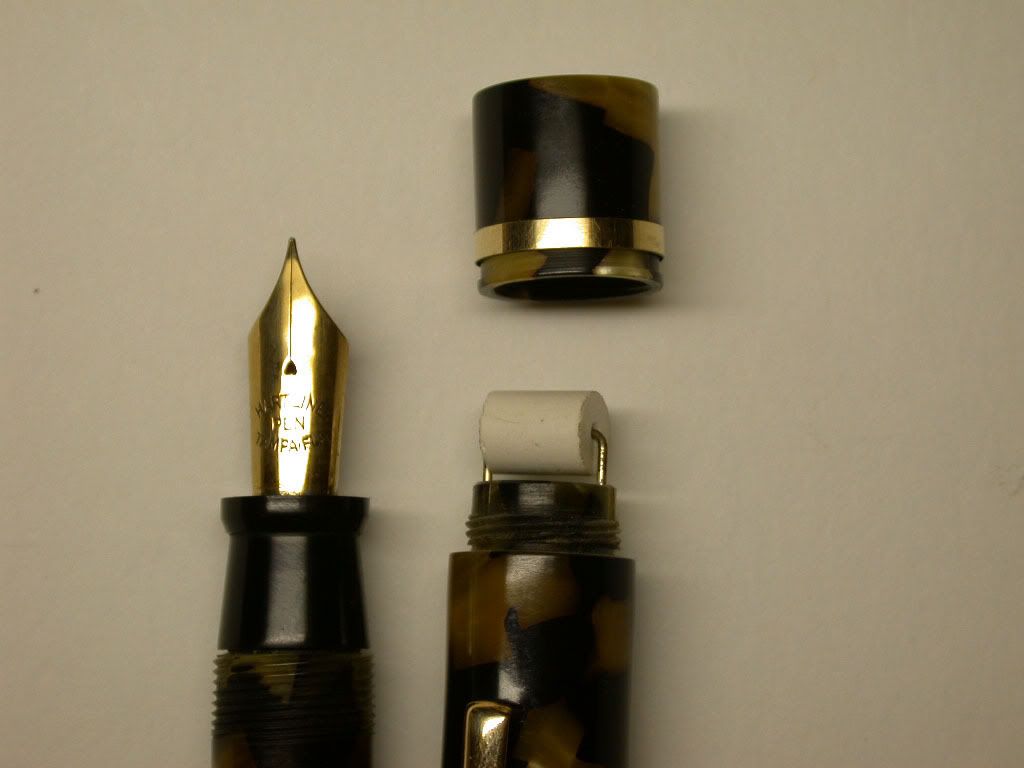 Flip the wire and the sac is depressed in the barrel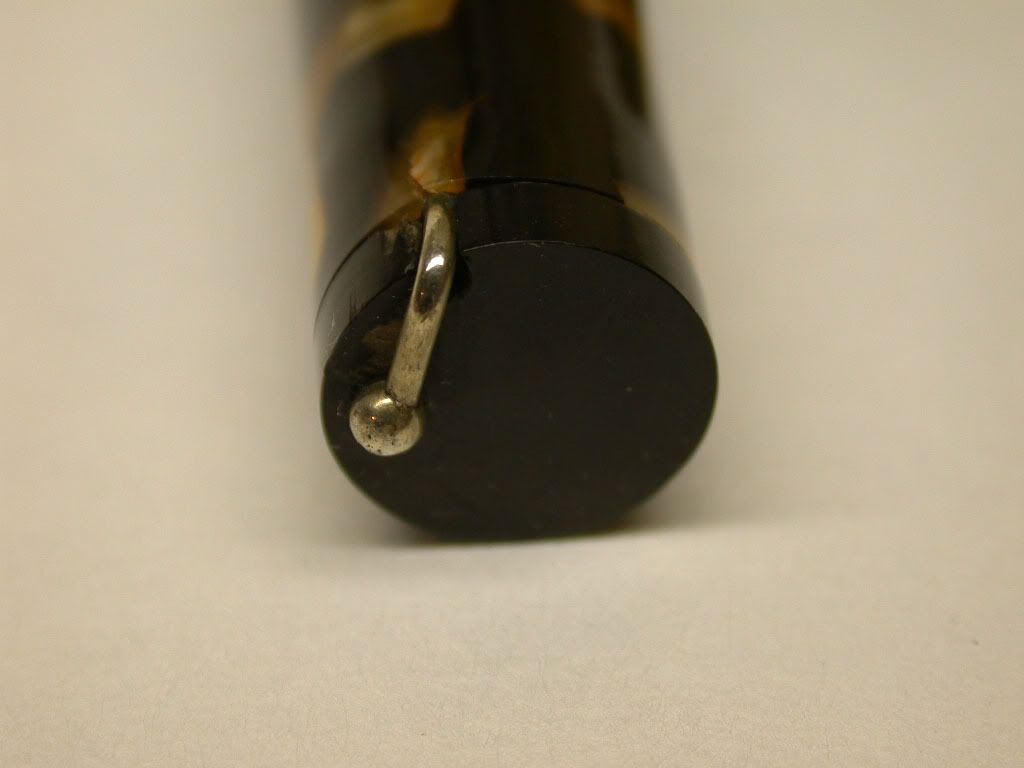 cap top with Hartline logo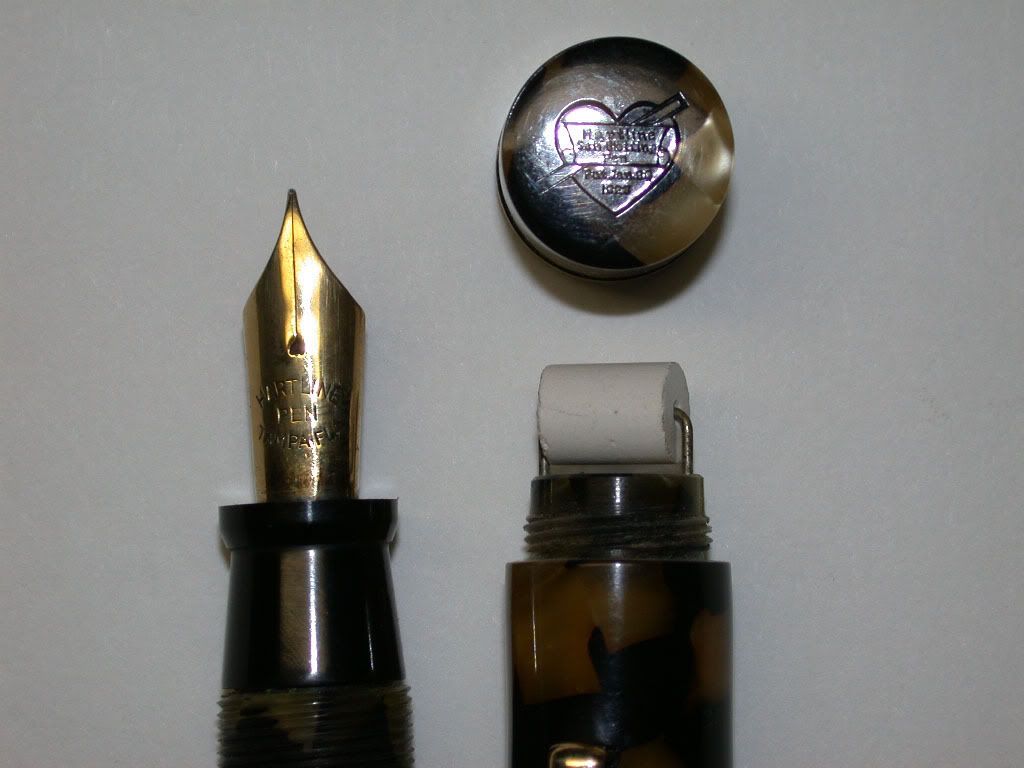 © Len Provisor 2007