Ulman Stromer – First Chronicler of Paper Making
By Dard Hunter - May 8, 1921
More than five hundred years ago, the first manuscript dealing with papermaking was written concerning difficulties of manufacture, problems much similar to those met with today.
About 1390 Ulman Stromer, a member of the Senate which governed Nuremberg, started the making of paper in Germany. The Stormer Mill was located just outside the western wall of the city at the point where the Pegnitz River emerges into the fields.
Woodcut of Stromer Mill by Anton Koberger c1493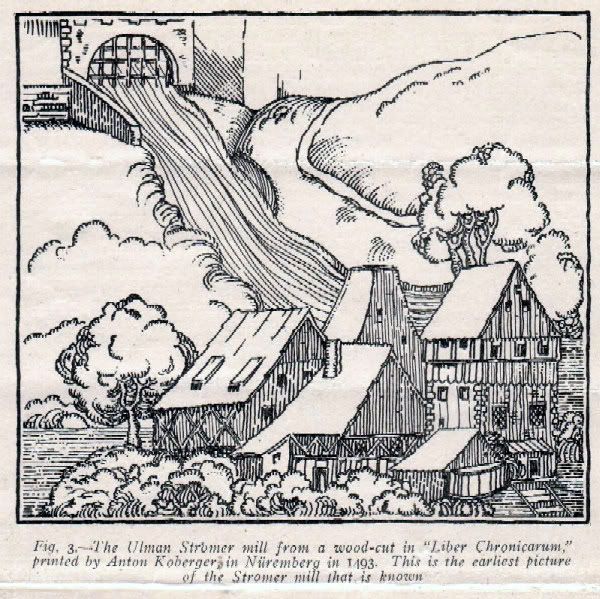 Interior of early paper mill. Note the heavy wooden mallet beaters in foreground which are driven by the huge wooden roller with large square cogs, the paper press is on the left and piles of rags sit in a basket before processing in the large vat.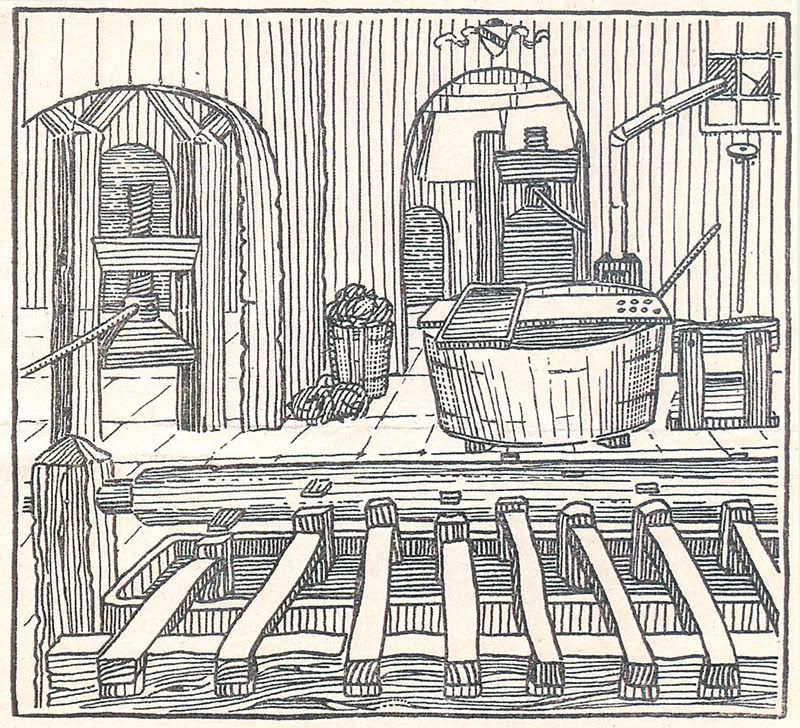 Before the papermaking venture Stromer had been a merchant and on his trading journeys to Northern Italy had seen paper mills in operation and he was convinced that he could make it a success with a mill of this kind in Germany, especially, if he were able to secure a monopoly in it. No one in Nuremberg knew anything about making paper so it was necessary for the erstwhile trader to get his employees elsewhere. He set out to find some foreigners who were skilled in the art of papermaking and was successful in getting several trained workmen from Lombardy.
At this time Stromer was sixty-two years of age and his experiences in trading had made him keen and of a cautious disposition, so much so that he wished all his employees to protect his interests and had them swear to be faithful to him and keep the secrets of the craft to themselves so there would be no other paper mills springing up in Germany.
During Stromer's days as a merchant he kept a chronicle of events – a sort of diary, in which he wrote the happenings of the day. This manuscript was continued after the mill project was under way and it is in this book, written in Stromer's own hand, that gives us the first insights in the difficulties of operating a medieval paper mill. This volume is now in the National Museum at Nuremberg and its title in Old German is: "Puchl von meim geslecht und von abentewr." It is not known whether the paper on which this manuscript was written was the product of the Stromer Mill or not but it seems likely that it was of Italian manufacture. The watermark throughout the book is the bull's head surmounted by a Latin cross and it is found in three different forms. The chain lines of the paper are widely spaced and the laid lines heavy and coarse. It is thought that the "S" watermark was used on the moulds of the Stromer mill, and also the Arms of Nuremberg.
Stromer "S" watermark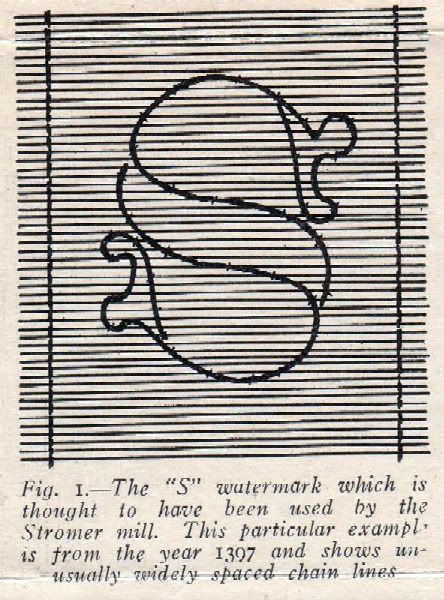 Stromer bull's head watermark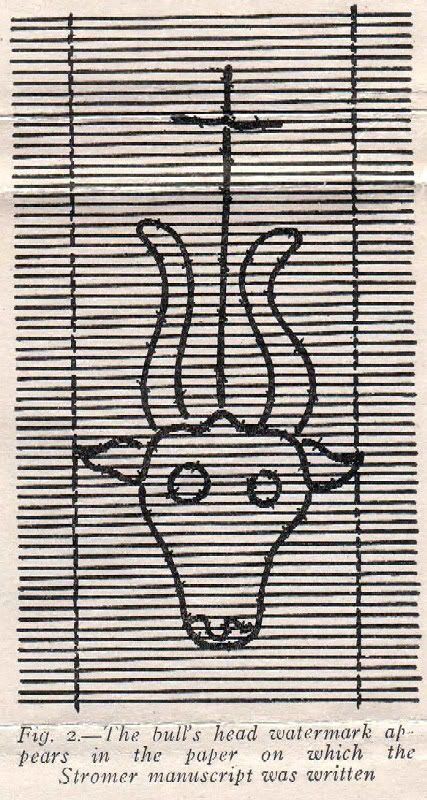 In early times it was customary for workmen and apprentices to make a declaration on oath that they would be faithful to their masters and look well after his interests and trade secrets. Accordingly, Stromer wrote in his diary that Closen Obsser, the man he had engaged as foreman, "promised to be faithful unto me and declared on his oath that he would be true to me and mine heirs, that he would be overseer at the mill, keep me from harm and that as long as he lived he would make paper for me and no one else save me and for my heirs and would not show or teach anyone how to make paper in any way at all. This took place on the Sunday next before St. Lawrence Day, in my room at the time of the evening prayer in the year 1390 when my son Jorg Stromer was present."
Thus having the foreman's faithfulness assured Stromer proceeded to have the rest of his employees take the same oath. He records in his chronicle that it was "on the day after St. Lawrence when Jorg Tymann promised to be true to me and with excited fingers swore on the oath to the Saints that he would be faithful to me and to my heirs, to help my progress and that for ten years from that day he would make no paper for anyone except myself when I wished. But when the ten years are passed he can make paper for himself but for no one else and he may then teach those who make paper for him, but for no one else, as long as he lives.
These men, like Stromer, were Germans but with the skilled Italian workmen he felt an extra precaution necessary so he took them to a Procurator, a sort of legal agent, named Cunradus and before whom the affidavits were made with Stromer's sons, brother and brother-in-law as witnesses. The contract with the Italians read: "In the year 1390 Franciscus de Marchia, and Marcus his brother and Bartholomeus his manservant pledged their loyalty to me and swore on oath to the Holy Saints that they would be faithful to me and to my heirs and that they would not teach the art of paper making to anyone in all the German lands this side of the mountains of Normandy."
The precautions taken by Stromer to guard his own interests by obtaining the services of the Italians exclusively for himself, rather excited their suspicions. They felt if they were so indispensable to the success of the paper mill that it would be better for them to control the enterprise than for Stromer to be the Master. With this idea in view the Italians tried to hamper the paper mill on every side – no doubt thinking that Stromer would become very weary of the whole venture and lease the mill to them at a low figure for them to do with as they liked. Continuing with his narrative, Stromer says, "the Italians were most troublesome and disobedient the first year and did as they liked and caused me many difficulties and would not suffer the third wheel to run at all. My first two wheels ran eighteen stampers and these were left idle a great part of the time as the foreign workmen wished to produce as little paper as possible so as to force me to let them have the mill for a rent of 200 gulden a year. This I would not agree to and they then offered to give me also an amount of paper. I understood from this that they wished to ruin me and deprive me of the paper mill."
In medieval times the employer had great authority over his workmen and Stromer availed himself of this privilege as a master and in his diary he says, "In the year 1391 on the twentieth of August, I took Franz and his brother Marcys and shut them in the tower over behind the water tower in a small room." On the fourth day of their imprisonment these unruly Italians sent for Stromer's brother-in-law, thinking, no doubt, that he would be an easier man with which to deal than Stromer himself. The foreign workmen asked the mediator to arrange for their liberty and a re-conciliation with their master. They were let out of the tower and the same day Stromer had them swear on oath that they would cause no more trouble and that they would do their full share of work at the paper mill.
The trouble with the workmen smoothed out, Stromer employed other papermakers and they were duly sworn like the others. It seems that a carpenter was needed at the mill to repair the stampers and vats, for in 1392 Stromer records that, "in my back room Erhart Zymerman has been engaged by me to be servant to me for one whole year. He is to do the carpentry work at the mill or he will polish paper, and his wife is also to work for me and sort rags for making paper from, or hang paper upon lines to dry, and to count the paper. For days when they both work I pay them wages and furnish them a house in which to live and firewood withal."
The Ulman Stromer mill prospered and more workmen were hired, each one taking the oath to be faithful and keep the secrets of the art of papermaking to themselves. The mills had originally been used for another purpose and were a group of half-timberd buildings with many gables, as shown in the old wood-cut taken from Schedel's Liber Chonicarum printed by Anton Koberger in Nuremberg in 1493. This is the earliest picture of the Ulman Stromer mill that is known and it was made a hundred years after the buildings were first used as a paper mill.
In Stomer's diary he gives little insight into the actual working of his mill, most of the book being devoted to the trouble he had with his workmen. How interesting it would have been had he written more about the equipment of the mill, the process used and the amount and the value of the paper produced. It seems that Stromer ran the mill but four years as it is recorded that in 1394 he leased the "large mill" to Tyrmann for a period of a like number of years. Stromer died in 1407 at the age of seventy-nine.
Nuremberg has never been known as a great papermaking center and the average visitor to this city of half-timbered buildings a red tile roofs, is too much absorbed with the accomplishments of those super craftsmen, Albrecht Durer and Peter Vischer, to give much thought to the first chronicler of papermaking.
Diary entry by Ulman Stromer Anno Domini 1390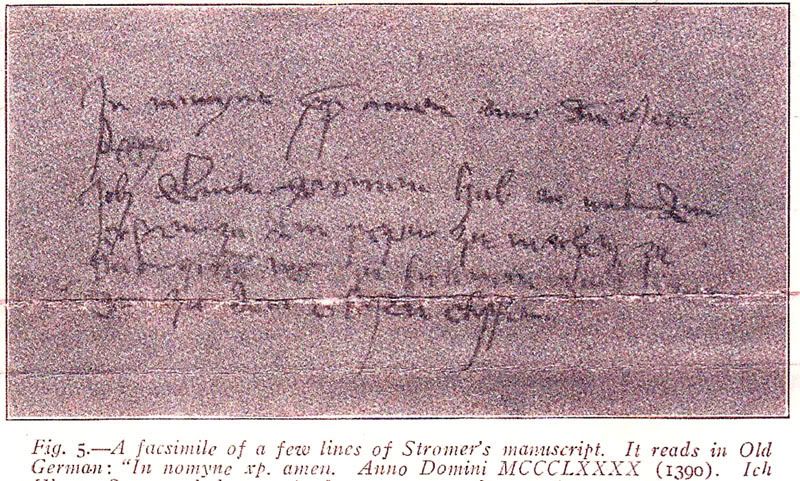 Copy of original article for this presentation furnished by
Don Hiscock, noted Parker "51" collector and paper history researcher
Reprint permission by Dard Hunter III
Dard Hunter Studios
www.dardhunter.com
The history of Dard Hunter 1883 - 1966
http://www.dardhunter.com/About.htm