Making Waterman's Ideal Ink in 1933
An interesting chapter in an original Waterman brochure from 1933 on the making of Waterman inks. Text from the brochure with some my own comments.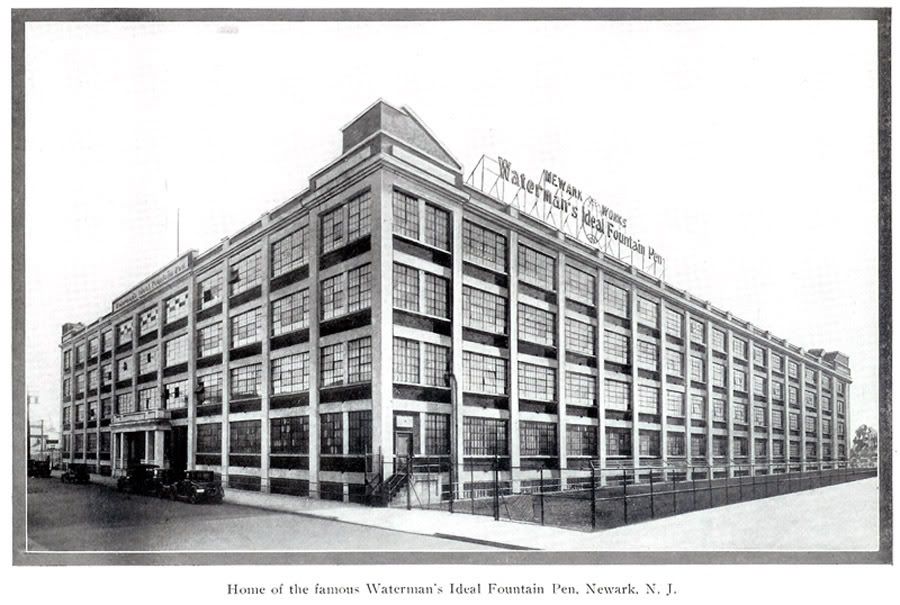 The L.E. Waterman Co did not always make ink.
OK, I suppose other major pen manufacturers did not either and I have yet to discover exactly who bottled ink for whom, such as for Parker, Conklin, Sheaffer and others among the primary pen manufactures of the period. The earliest primary ink manufacturers at this time in the early 1900's, to my knowledge, were Sanford, Carter and David's to name but a few.
Waterman realized that no matter how perfectly designed and made a Waterman's pen might be, it could do its best work only when it used a perfect writing fluid. So they determined to manufacture a perfect ink – an ink that would be worthy of their perfect fountain pens.
Let us visit the huge department where Waterman's Ideal Ink is born.
It is an odd fact that the best writing ink originate in the sting of a little insect.
Tannic and gallic acids, the ingredients that impart permanency to good writing fluids-are two extracts from gall nuts, a hard parasitic excrescence that grows on a trunk of a species of Oak found in Asia Minor and this growth is caused by the sting of the gall fly.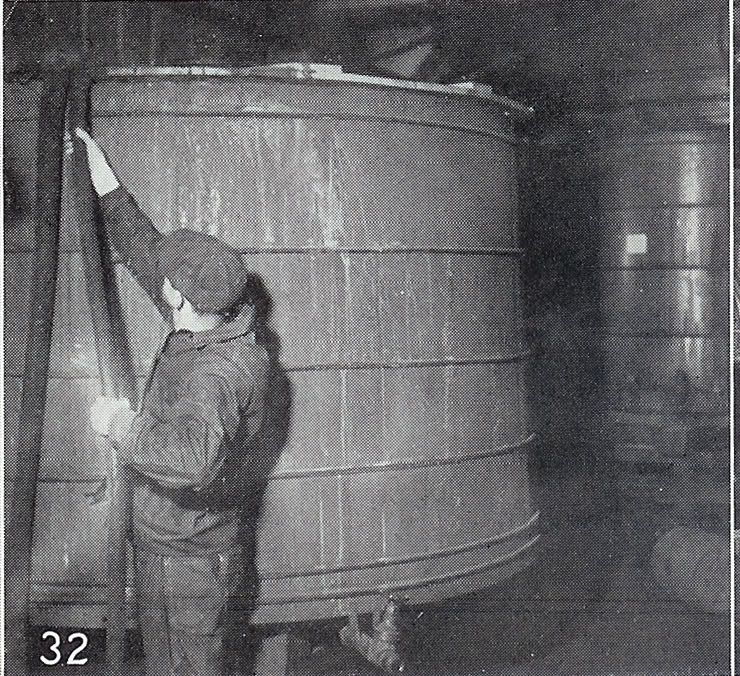 Tanks for mixing and storage of ink.
Certain proportions of powdered tannic and gallic acids and water are boiled and then mixed with other boiled solutions of iron sulphates, dye and water. The resultant mixture is then pumped to large tanks where it is kept in a state on continual agitation for a certain period of time. This insures thorough mixing and blending of all the ingredients.
The perfectly blended ink is then pumped to huge tanks, each holding over 1,000 gallons where it is aged for fourteen days before it is considered a perfect Waterman's ink.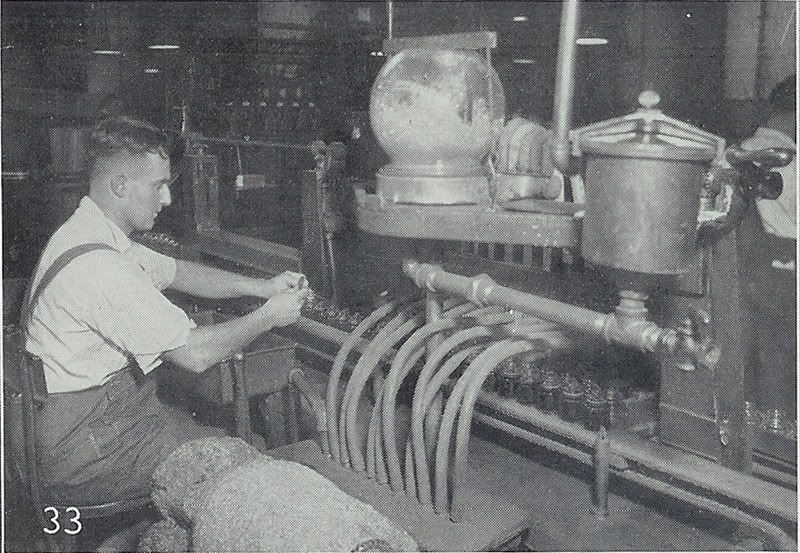 Automatic filling machine and corking of bottles
The properly aged ink is now ready for bottling. Empty bottles are placed on a belt moving towards an automatic machine that fills ten bottles at a time, each bottle receiving just the necessary amount of ink to fill it. An interesting feature of this machine is its "bubble remover", which draws air bubbles from each bottle as it is being filled. The removal of these bubbles not only assures the full net weight of ink for each container but also allows the cork to be inserted to the proper depth.
Leaving the filler, corks are placed in each bottle and pushed home at the next apparatus.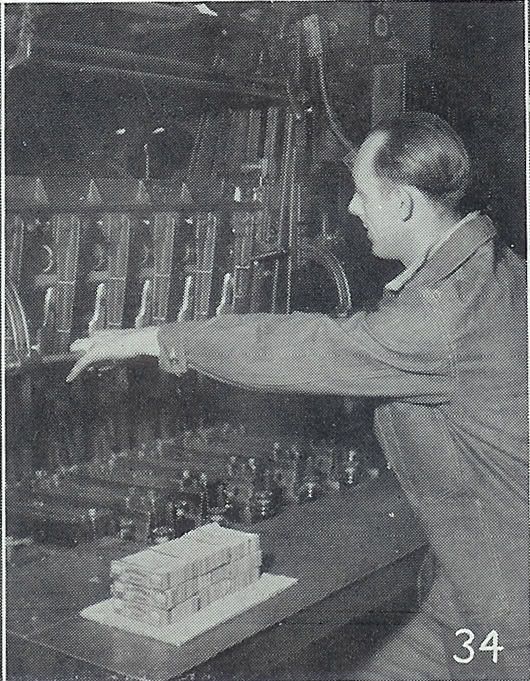 Placing labels on ink bottles
The procession of filled and corked bottles moves on to another automatic machine which applies a gummed label to the exactly correct place on the bottle.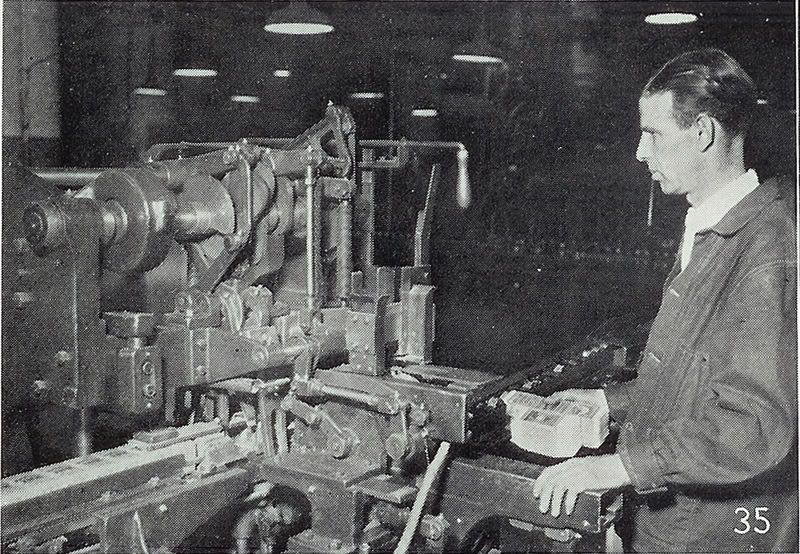 Machines for cartoning ink.
A little further on the bottles are turned on their sides before entering the cartoning machine. An arm brings down a flat carton from a stack in the back of the machine.
It is automatically opened and the top flaps are neatly tucked in place. A circular or blotter is next inserted in the carton by the machine.
Blotters from my own collection, 2" x 7" fit inside the box and wrap around the bottle.
This ink blotter would be considered a signature blotter.
A bottle is then pushed in and the bottom flaps folded together, a completed carton without a hand having touched it.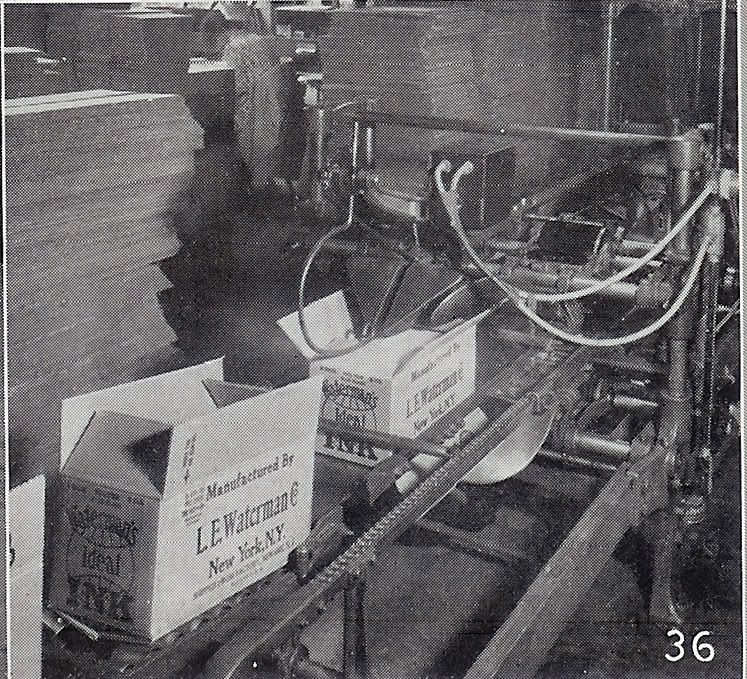 Sealing of shipping containers.
Emerging from this machine, nimble fingers place the small cartons into larger corrugated shipping containers after which they continue to a machine that automatically applies the sealing solution and then tightly seals all flaps, top and bottom. The sealed container then resumes its journey on the traveling belt to its allotted place in the storage or shipping room in another part of the building.
It is interesting to know that more than 10,000,000 bottles of Waterman's Ideal Ink, in various sizes and colors, flow out of this department each year into homes and offices all over the world.
Waterman inks at this time were priced at .10 to .15 cents for 2 oz, .20 to .25 cents for 4 oz, .75 cents for pints but a pint of red was $1.10, $1.25 for quarts, red was $1.75, ½ gallon was $2.25 with red at $3.25, 1 gallon was $4.00 with red at $5.00 per gallon.
The 2 oz metal ink travelers were .25 to .50 cents.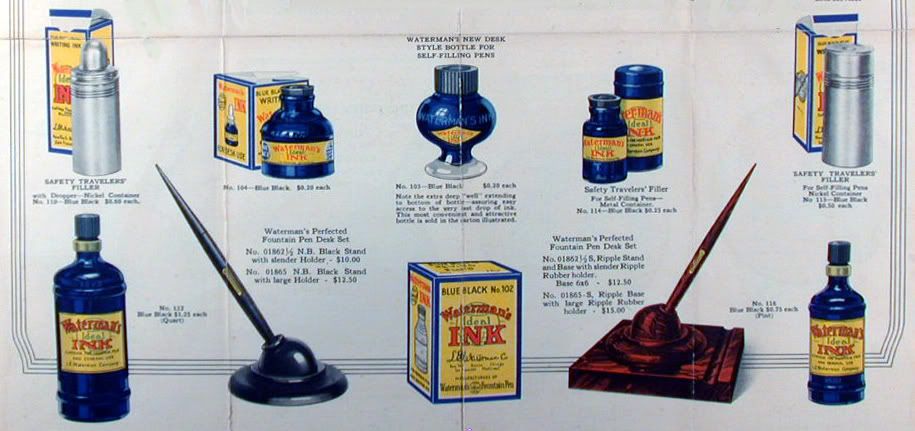 Pentrace December 27, 2006
© 2006 Len Provisor