Making shellac Demo by Jack Lynch
The common description of shellac viscosity is expressed in terms of "lb cut", such as 1,2,3,or 4 lb cut. Shellac at the hardware or paint store is generally 2 lb cut, and the most universal. Perfect for pen repair use.
The solvents, alcohol or ethanol is one and there are several blended solvents like the one in the photo are measured in liquid volume. The lac flakes are measured by weight. A small quantity formula for 2 lb cut shellac is 2 oz of solvent + 1/2 oz of lac flakes.
The ingredients:

Jack on left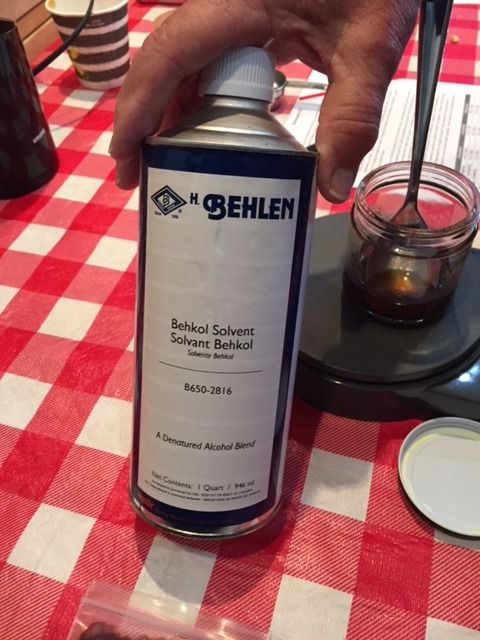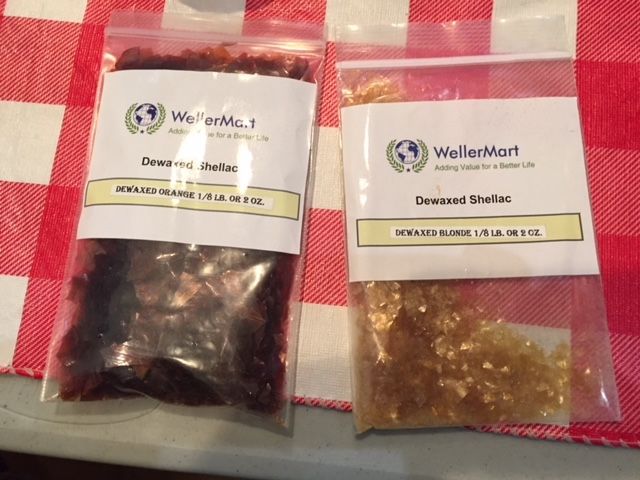 Photos by Chicago Pen Club member Rich Korbas
The flakes are more easily dissolved the smaller they are. Put them in a coffee grinder for a few seconds works well. Use an old grinder that you no longer use for coffee!! Mix the flakes and solvent and stir and stir and stir until they are dissolved. Mix in glass, do not use plastic or metal so you can use a microwave to warm the mixture.. You do not want it hot!! only use 5 seconds at a time and stir until gently!! warmed.
When all has been dissolved strain the shellac through a loose cloth into a clean container and cap it.
You now have enough shellac to use for pen repair for the next year or so, depending on how many you do.