A friend passed away a few months ago. His name is John Deely. I had not spoken with him in the last several years, always thinking I should give him a call. I recently learned he passed last January, 2017. We were the same age, we both loved fountain pens, we met at a Chicago Pen Show in 1990 or maybe it was 1991.
At this point I had been in the promotional advertising business about 12 years. I was a representative of Montblanc, Parker, Waterman and a few other pen companies selling to corporate accounts. I had a substantial collection of fountain pen samples, catalogs, selling ephemera, and just about everything else you can think of. Well, I finally decided to liquidate this mass at the next Chicago Pen Show. l packed up about 20 large cardboard boxes just busting with "stuff".
Pen show, Saturday morning, entered the showroom and noticed people were following me to my tables….I was a new guy selling and they wondered what he has in all those boxes. I had two tables and started to unpack boxes.
Suddenly I was the most popular guy in the room. Never before was I the subject of a "feeding frenzy". I was in shock, I could not control the crowd and I noticed some had actually breached the ends of my tables and started to open the boxes stacked behind. I had to push them back and stack folding chairs on top of the boxes.
As I turned around to face the crowd a friendly face approached me and he said "I think you need some help."
I never met him before, had no idea who he was but sure was glad he was there to help me. For the next few hours it was a blur of hands and samples crossing the tables. Everything was $2. or $4. or $5. or $10. We both just kept stuffing money into our pockets and pouring more stuff onto the table. I finally swept whatever was left over back into a few boxes and my friend introduced himself to me.
"Hi, my name is John Deely and this is my first pens show. Is this normal?"
He was a god-sent, he really saved me that day. We spent a few more hours together talking about fountain pens and pen history, we got to know one another and I was so pleased I had made such a nice friend.
Over the next several years we corresponded as he travelled the world with his lectures and visiting Universities. When he was passing though Chicago we visited. When I went to the Houston Pen Show I would visit his home and his office at University of St. Thomas.
Over the years John would send me his newest books with a kind hand written dedication to me. Printed in one book after his Technical Prenote and Acknowledgements to New Beginnings Early Modern Phiolosophy and Postmodern Thought :
Completed with the
1993 Omas Club Internazionale della Stilografica "Armando Simoni"
penna numero 266
4 August 1994
In another What Distinguishes Human Understanding? printed after the forward is:
completed with a "Friend of Len Provisor" Parker pen,
corrections with a Pilot "Vanishing Point".
John Deely had an uncanny resemblance to the famous Italian author, scholar, and philosopher Umberto Eco. Umberto Eco is noted for his famous medieval mystery "The Name of the Rose" and several other best seller books. John Deely and Umberto Eco sometimes attended the same conferences in the field of semiotics.
John told me with all the honors he received for his literary accomplishments, one incident pleased him the most. He was at a conference and a group of people approached him. One person addressed him…."Mr. Umberto Eco, we are so honored to meet you." John said he laughed and laughed but politely introduced himself and pointed to Umberto Eco in the crowd.
John Deely (1942-2017)
By Justin Weinberg. January 12, 2017
John Deely, Professor in Residence in philosophy at St. Vincent College, died this past Saturday. Professor Deely worked in semiotics. Prior to his appointment at St. Vincent College, he taught at the University of St. Thomas (Houston, Texas) and Loras College in Dubuque, Iowa.
Brian Kemple (Wentworth Institute of Technology), a former student of Deely's, writes:
A prolific author with a capacious mind, Deely understood both the past and the future of philosophy with an unparalleled insight.  He wrote over 20 books, co-authored or edited over 30, and published more than 200 articles during his academic career, also serving for many years as editor for the American Journal of Semiotics. John Deely leaves behind a legacy of thought which is both expansive and deep, and just as importantly, of a great friend and mentor.
Kemple adds:
for those interested in his work, I recommend picking up Semiotic Animal as an introduction—it is far less intimidating than his magnum opus, Four Ages of Understanding­, a text which ought to be required reading for anyone studying the history of philosophy.
Umberto Ecco (1932 - 2016)

Umberto Eco, an Italian scholar in the arcane field of semiotics who became the author of best-selling novels, notably the blockbuster medieval mystery "The Name of the Rose," died on Friday at his home in Milan. He was 84.
February 19, 2016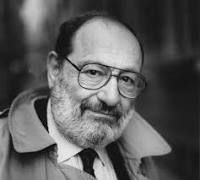 https://www.nytimes.com/2016/02/20/arts/international/umberto-eco-italian-semiotician-and-best-selling-author-dies-at-84.html
https://www.theguardian.com/books/2016/feb/23/umberto-eco-funeral-sforza-castle-milan
So, my friends, the point of this article and reminder is, when you have the inkling to call an old friend, do not procrastinate. Pick up the phone and give them a call. I guarantee they will be pleased with the call, and just as pleased if you write a letter with your favorite fountain pen.