Chicago Pen Club May 2018
Boston and Holland - quite scarce examples
From the collection of Roger Wooten who explains about a few rather exceptional examples of vintage Boston and Holland fountain pens.
What a nice collection of overlay pens, a mix of Boston and Holland.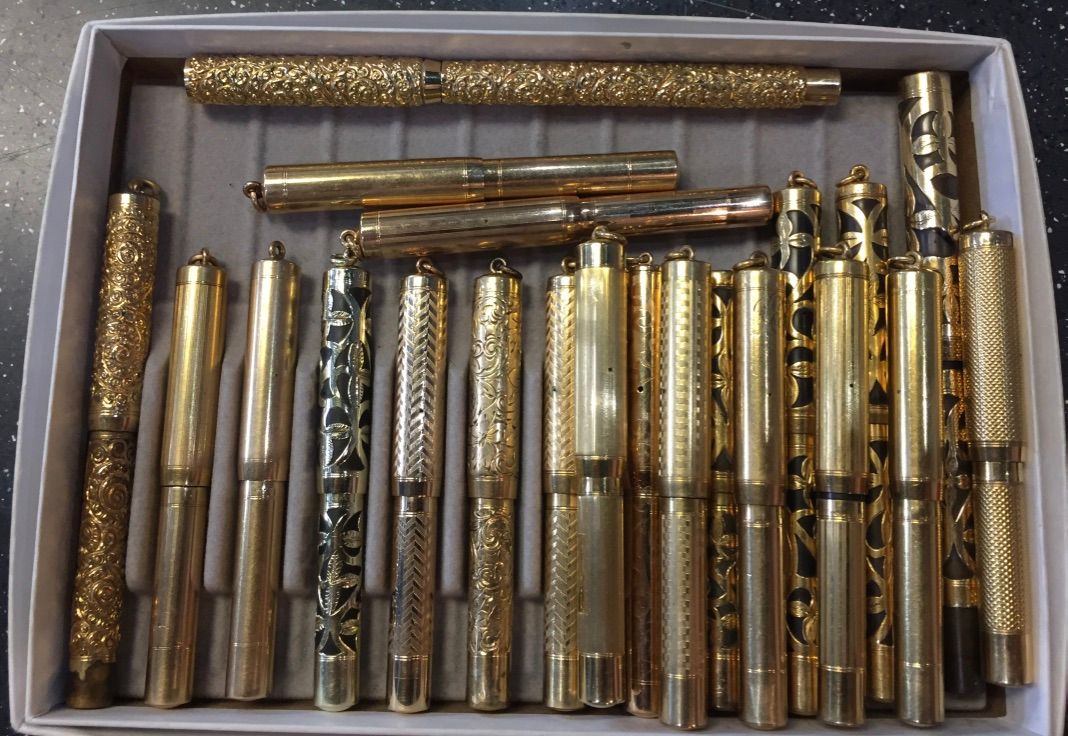 Roger explains he has never before seen an example of a Boston fountain pen with 14K overlay. Looking closely at this pen, at first glance the overlay appears to be sterling silver.
But Roger explains he believes it is green gold which appears much lighter in color. The stamp on the pen cap is clearly 14K GOLD.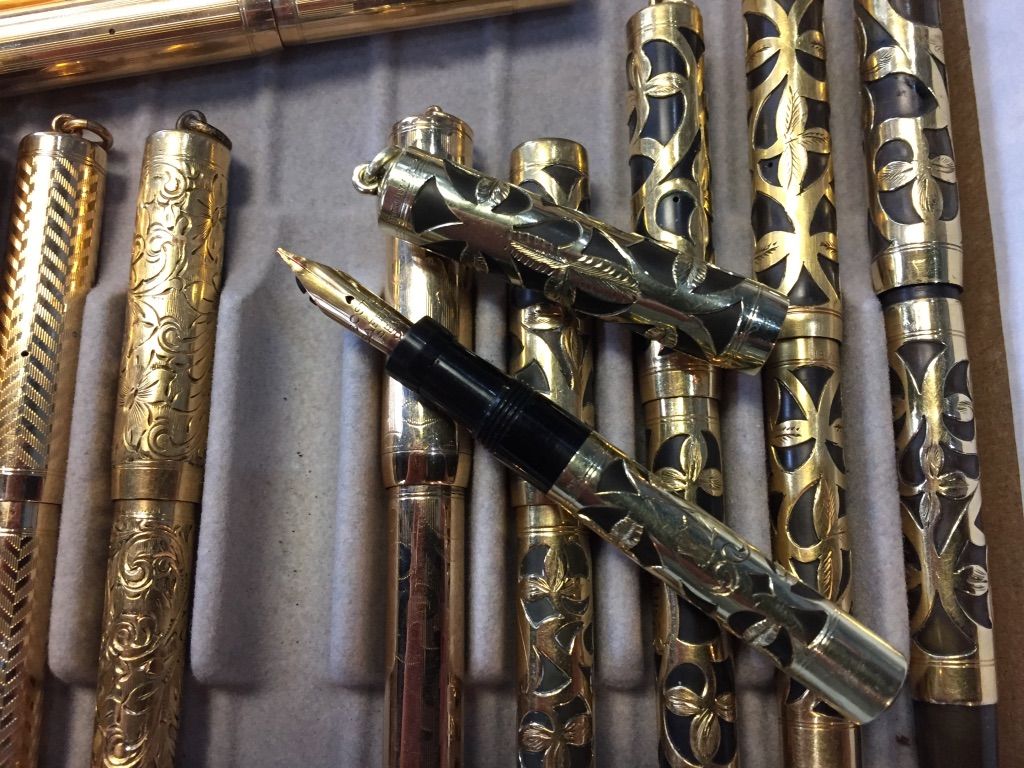 Now this Colonial fountain pen is really unusual. Made by Colonial Pen Co. It is a ring top ladies pen. Colonial Pen Co produced pens from 1899 to about 1904. Lancaster Pen merged Colonial in 1902 and was moved to Baltimore, MD. The company was bought by Charles Brandt in 1904 and operations was moved to Boston, becoming the Boston Pen Company. In 1917 the Boston Pen Co operations was purchased by Wahl pen and moved to Chicago.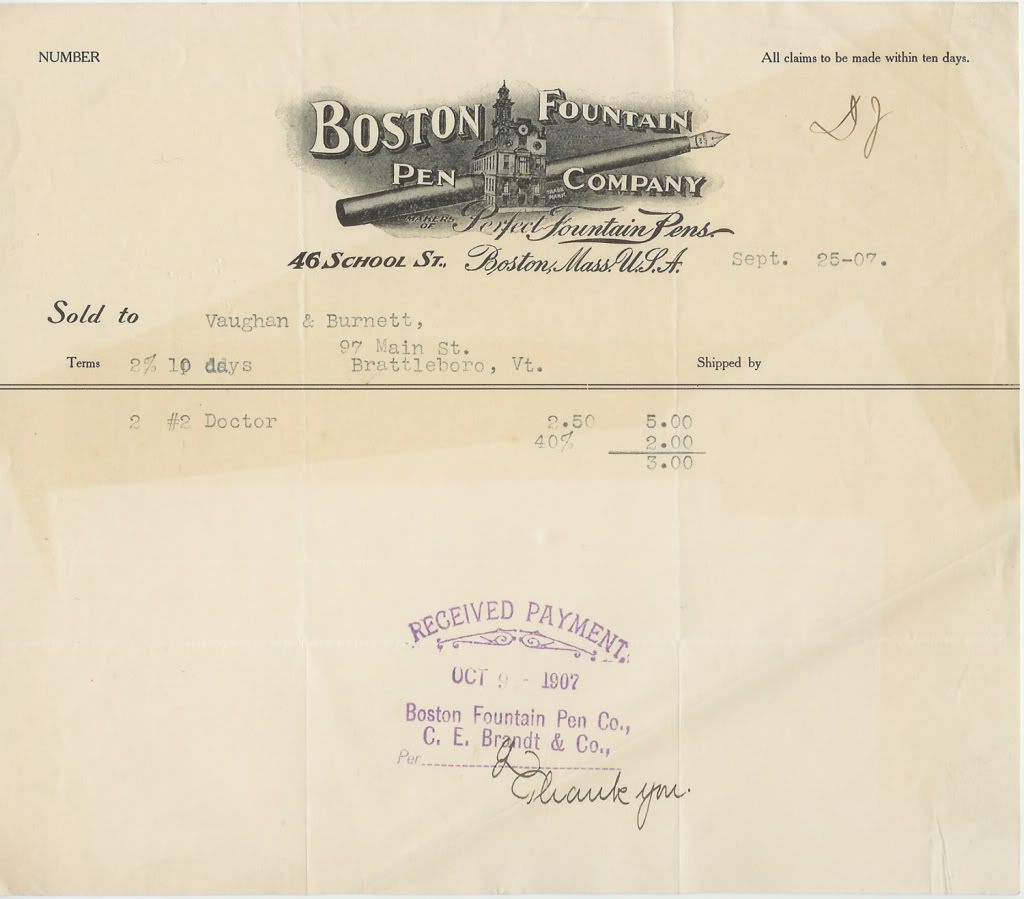 Removing the cap the this is still a comfortable 5" long, suitable for men or ladies. But notice, a section of the end of the barrel is actually an extension that can be removed for a shorter version of the pen. The cap can also be added to the end of barrel for a further extension to 6 1/2" long. Very creative design, not often seen and probably not many of this version were made.
With cap posted on pen: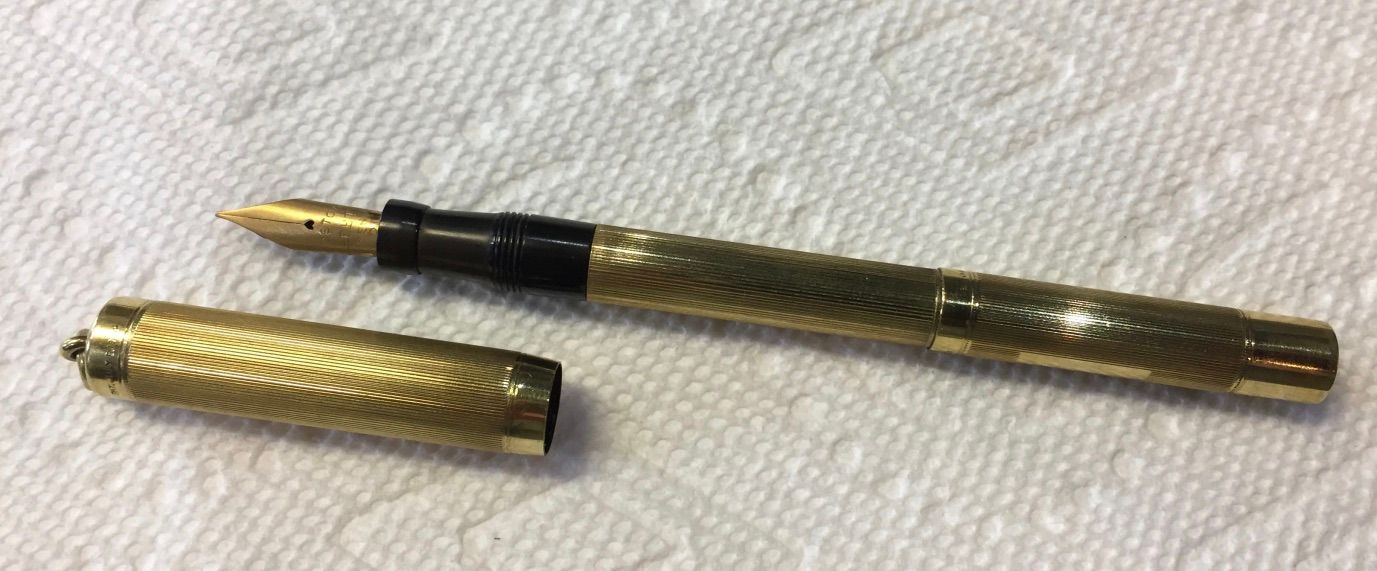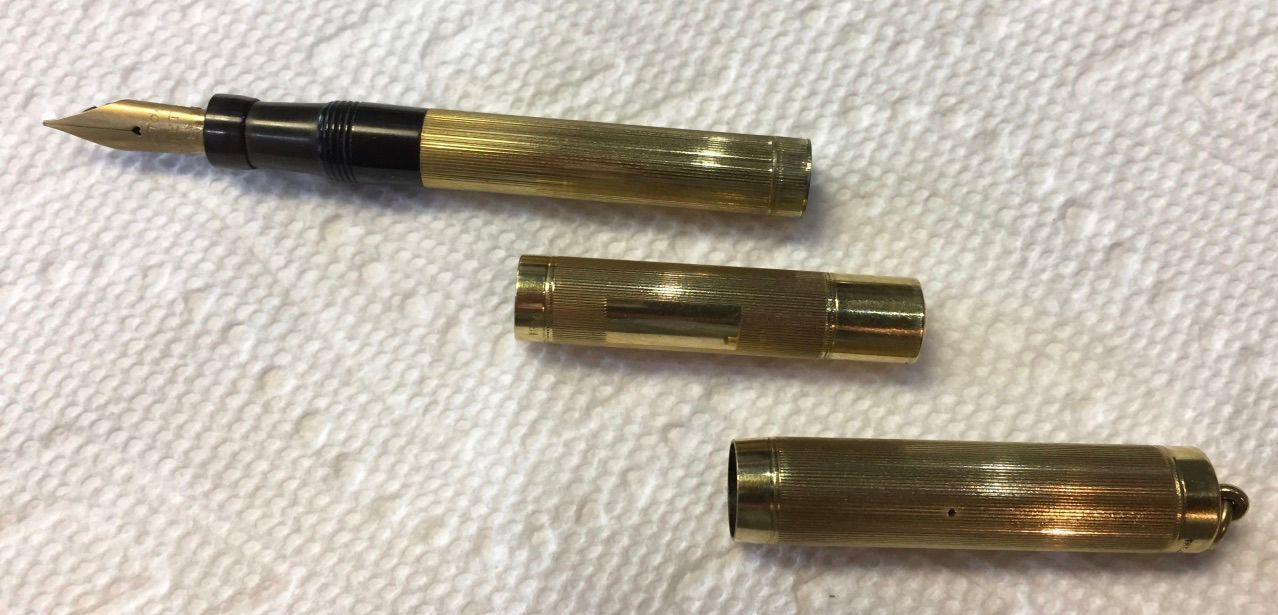 Fully extended with cap posted at end of barrel.




Another unusual feature, this is a twist filler. The ink sac was probably glued to the feed, but in addition a thin wire was wound around the end to secure sac to feed. The sac would be hand twisted for filling. A short tube was then placed over the sac to further protect the sac and contain any leaking.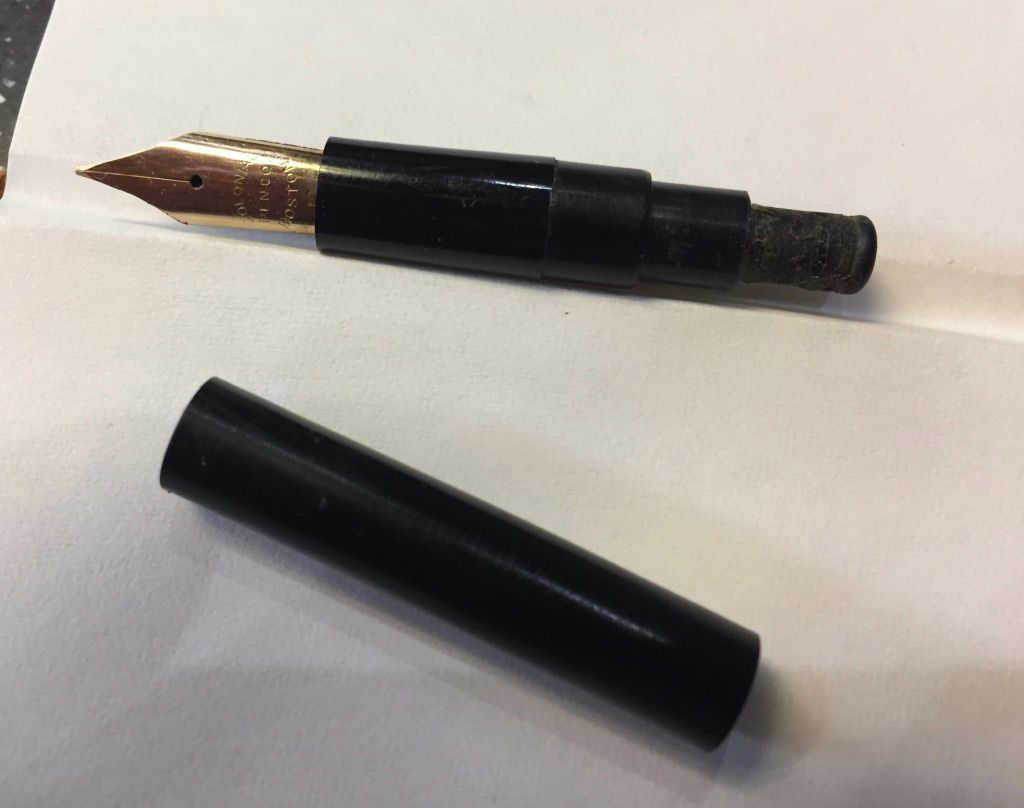 Next we have a Holland with 14K GF Snail pattern overlay. What sets this apart is the pattern is, in my opinion is twice as brilliant in design and tooling than any other ordinary Snail pattern I have seen. Quite stunning. Compare this to the one above which is nice, but kind of "ho-hum".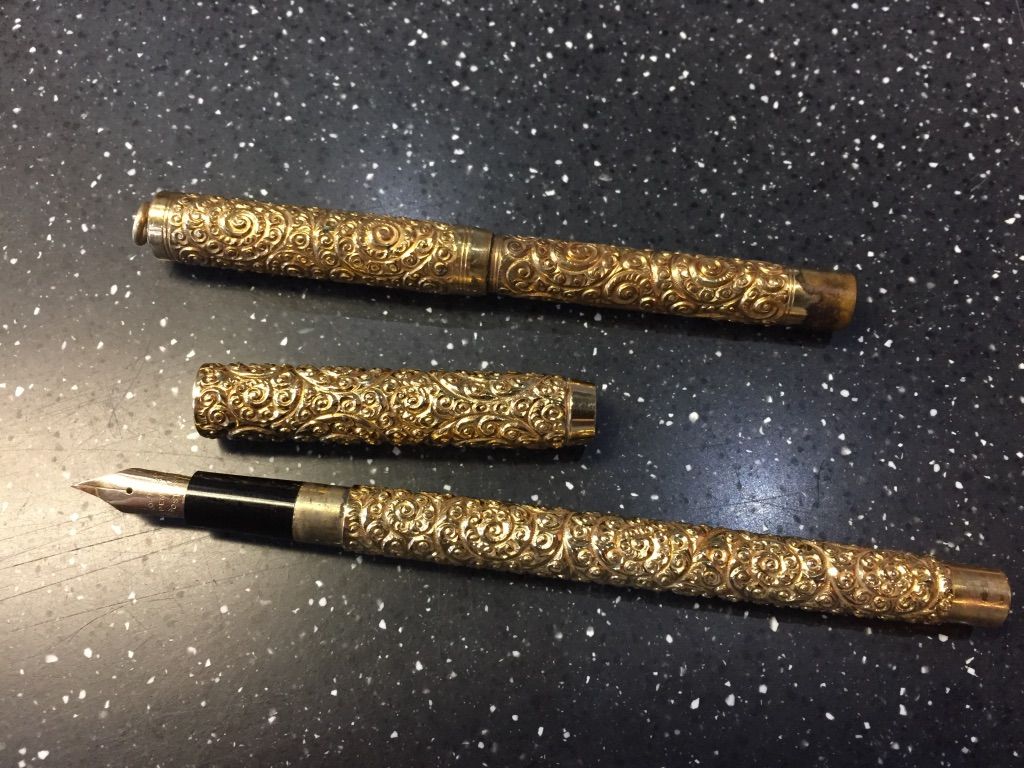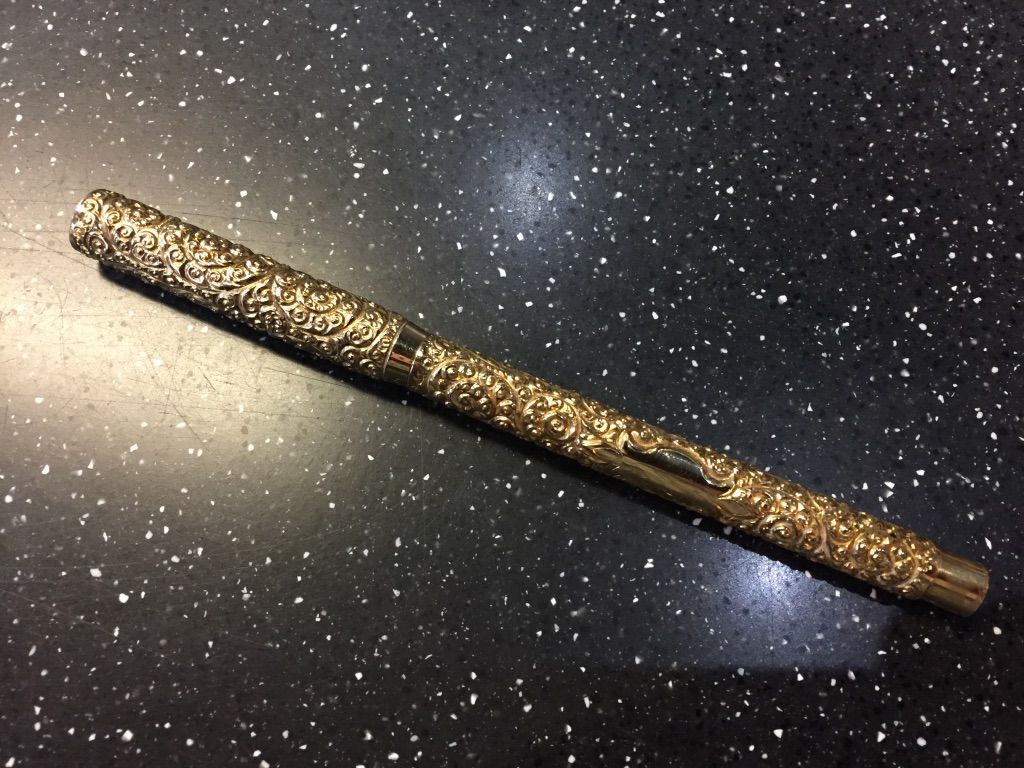 Amronlite lamps, pen holders made for Sheaffer.

This is a catalog of Amronlite lamps that are dated to 1917. The typical dark green glass shades contained an tungsten bulb which was developed in 1911. Today these lamps are rather scarce, the shades alone, in good condition can sell for as much as $300.

Notice on the first sheet the lamp features a horizontal pen rest above the base and a holder for an ink well or ink bottle on the bottom.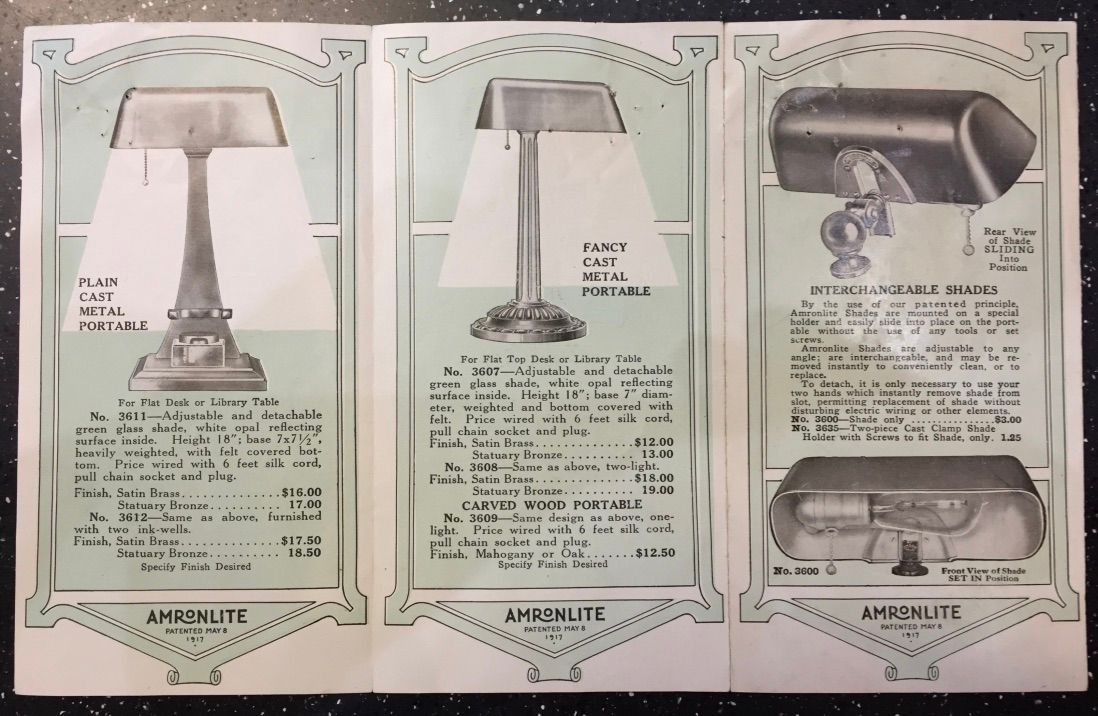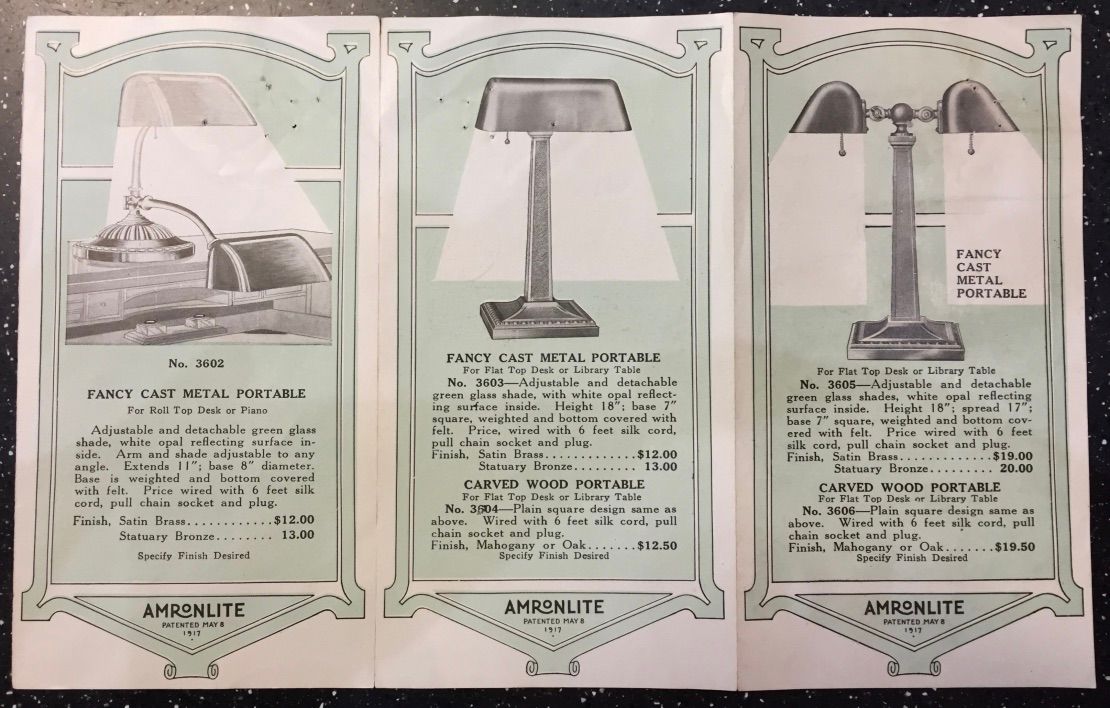 Congratulations to modest Roger Wooten as he was just voted in as Member of the Board of Directors of the PCA Pen Collectors of America. Roger has been active with the PCA for about 15 years starting as PCA Treasurer about 15 years ago and also serving as PCA Librarian.




…and of course, a big thank you to Jack Lynch for hosting our club meetings and always having hot coffee and cookies on hand.