Thank you or posting this Norman. This early period of Cross history is not covered in the book
WRITING HISTORY 150 Years of the A.T. Cross Company by Barbara Lambert
published in 1996.
If you like reading of writing instrument history I highly recommend this book. Out of print, be patient and look often at booksellers to find a copy.
WRITING HISTORY
150 Years of the A.T. Cross Company

by Barbara Lambert

Published 1996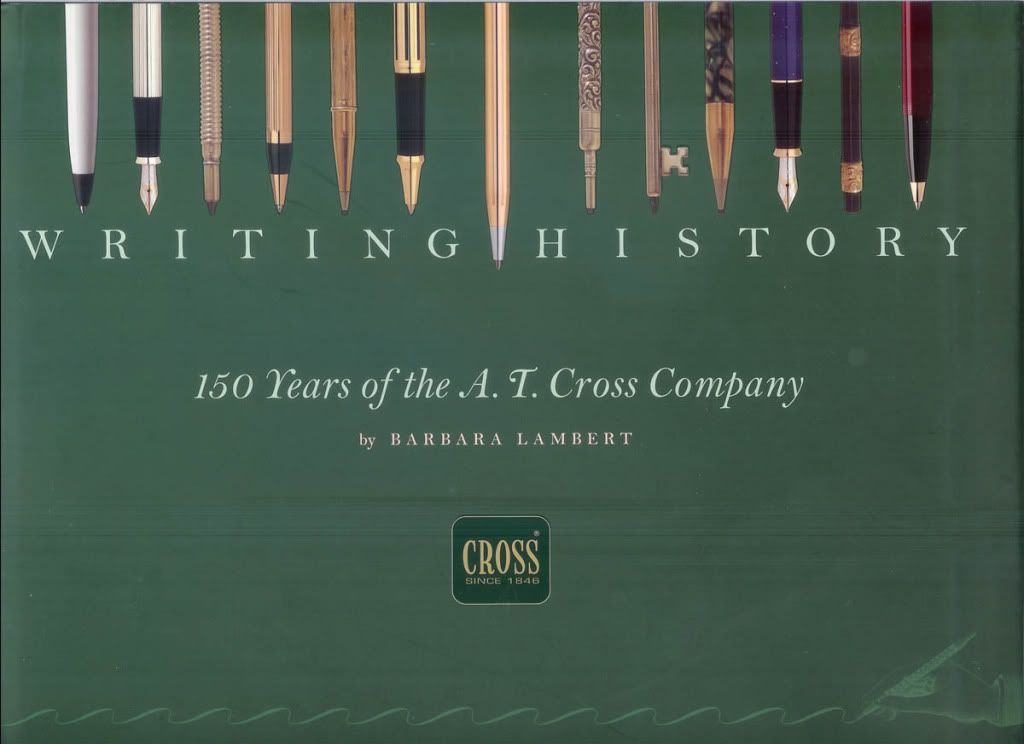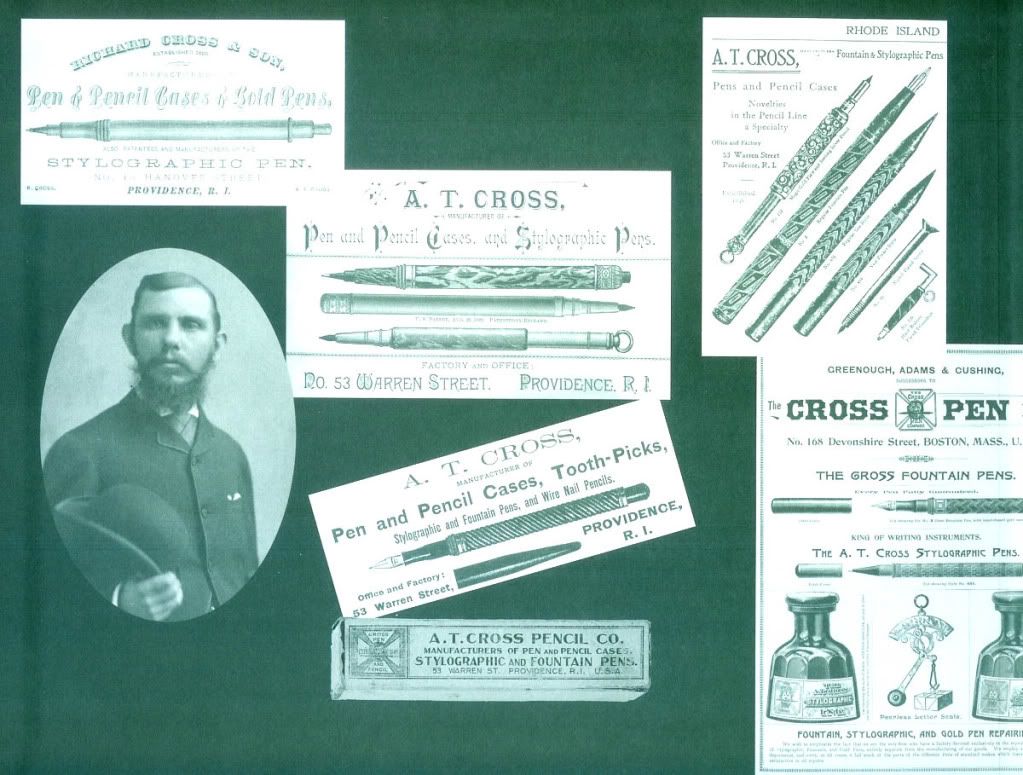 I read this book about 10 years ago and since then have often picked this up again to find certain facts about the company and product history. Every time I re-read certain chapters I would re-discover information once passed over as incidental; once the page is re-read I would have a "slap to the forehead" moment igniting a spark of intense curiosity. Standing next to my book shelf from which this book is retrieved, I would keep reading and slowly guide myself to my reading chair for the next hour or so with a sheaf of bookmarks so I can pencil (not ink) notes and memos.
First of all, you do not need to have ever owned, collected or even looked closely at a Cross pen or pencil to enjoy this book. This reads like a novel, it is a highly detailed history of a family chronicle and a pen company that has, in fact been in business since 1839 in Birmingham, England as documented by advertising for "pen and pencil cases, gold pens and jewelry" by Richard Cross and Son.
Writing History
is a complete history of this company, wonderful illustrations visually document the extensive line of writing instruments and the people and places that have shaped them. Entwined into the story of the A.T. Cross Company history are fascinating gems related to other pen companies such as Biro, 1847 gold pen manufacturer John Bard of Bard, Crosset & Foster, Parker Pen Company, Wahl-Eversharp, Fisher Pen Co., Grieshaber, LeBoeuf, Mackinnon, Montblanc, Reynolds, Waterman and many others. This book documents how two families have owned and managed this business to develop from a cottage industry into one of America's major mid-sized manufacturer.
Here are images of the contents of nine chapters. An extensive index is also extremely helpful.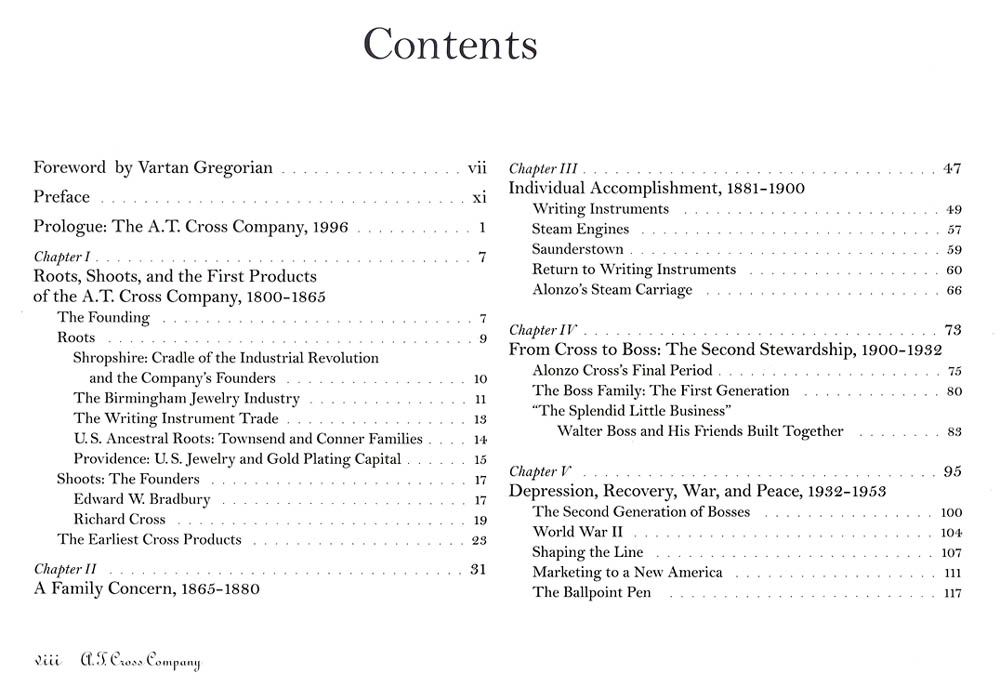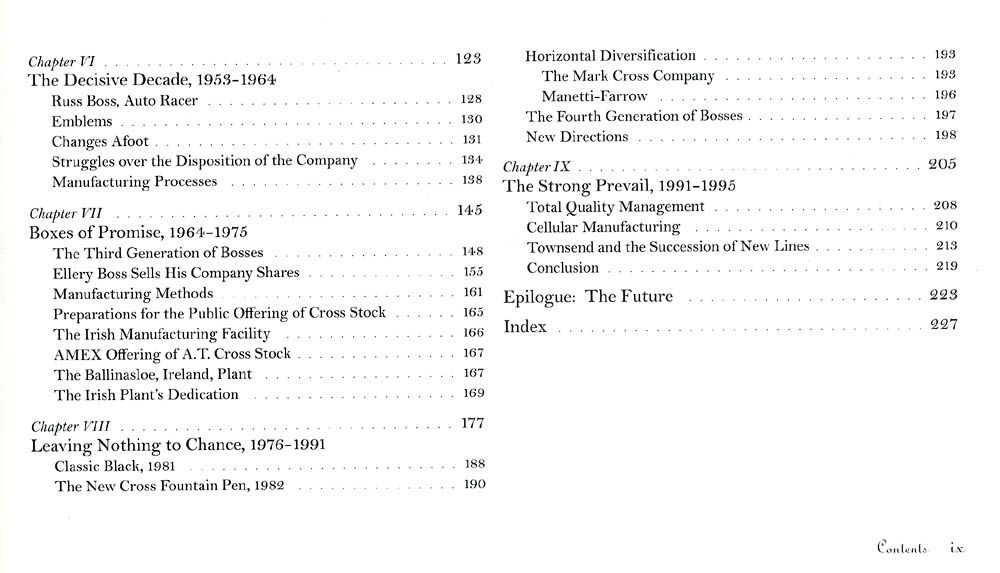 I could not possibly write enough praise for author Barbara Lambert. To those of us that relish factual and detailed history, she is an historian's historian. The flyleaf briefly tells me….
Barbara Lambert is an historian of material culture specializing in America and an archivist. Her museum work includes the Museum of Fine Arts, Boston, where she was keeper of musical instruments; the Shirley-Eustis House Museum (Massachusetts's colonial governor's mansion built in 1746, a national historic monument) where she was executive vice-president; senior fellow in musical instruments at the Metropolitan Museum of Art, and research associate in musical instruments at the Peabody Museum of Archaeology and Ethnography, Harvard University. She was editor of and contributor to Music in Colonial Massachusetts, two volumes (Charlottesville: University of Virginia Press, 1985, 1990), and has published articles in a variety of scholarly journals and books.
Long out of print it may be difficult to find this treasure of a book but I would suggest that if you have interest put yourself on a waiting list with several pen or book dealers and Google often to find copies that may be available.
Others who may have read this treasure are most welcome to write and post your reviews right here on Pentrace.
Images and contents copyrighted by A.T. Cross Company