Queen Silvia, her usual regal self, perfect as always!
Do we know the origin of the large oval diamond brooch? Was it part of the Brazilian parure, or has it a different origin?
Princess Sofia definitely wears the tiara of Empress Joséphine's amethyst parure. She also wears a small cabochon sapphire and diamond brooch, pinned on her sash. Strange mixing of colours... But her dress is very elegant. She has definitely found her style as a Royal Highness!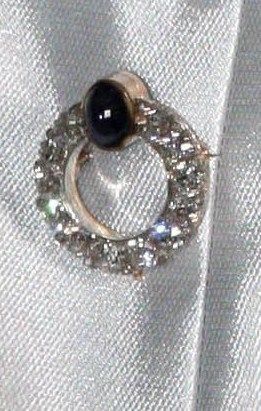 Princess Madeleine wears a pair of earrings with large cushion-shaped aquamarines hanging from a chain of small collet diamonds. I have always liked the deep, intense colour of the aquamarines, though I think the diamond chain looks a bit plain. I had been hoping for a long time to see Princess Madeleine wear these earrings with the aquamarine kokoshnik, I thought it would make a great combination... and indeed, it is a great one!
I don't know the origin of these earrings. Princess Madeleine has worn them for the first time on her pre-wedding reception on 7th June, 2013 (picture below), and she has been the only royal lady to wear them, so I guess they could be a wedding gift:
What is known about the brooch worn by Princess Madeleine on her back shoulder (last picture of Malluu's post, that I post again below)? This small booch of a small cushion-shaped aquamarine on a diamond swirling surround looks lovely and elegant. Has it been worn before?
And, off (jewellery) topic, we can remember that King Carl XVI Gustaf has a Governor general of Canada among his direct ancestors! Prince Arthur of Great-Britain and Ireland, Duke of Connaught (1850-1942), the King's great-grand-father, was Governor-General of Canada from 1911 to 1916.