: The sapphires came from a sapphire parure that
: the Franz Josef of Austria gave as a
: marriage present to archduchess Maria
: Cristina when she married king Alfonso XII.
According to Chaumet's website (the jeweller who created the parure), the gemstones of the three parures presented as wedding gifts to Princess Alice of Bourbon-Parma were presented to the bride's family by Emperor-King Francis-Joseph of Austria-Hungary:
https://www.12bis.chaumet.com/en/12bis/tiara
The caption is not really accurate (Francis-Joseph was the "ancestor" neither of the Bourbon-Parmas, nor of the Bourbon-Sicilies), and does not specifically makes a link with Queen Maria-Christina of Spain (born Archduchess of Austria, from the Teschen branch, wife of King Alfonso XII of Spain, and maternal grandmother of Infante Alfonso of Bourbon-Sicilies, who married Princess Alice of Bourbon-Parma).
: Arthur, i was told that some sapphires of this
: tiars came from la Couronne de France . Is
: that correct ?
There might be a confusion with another sapphire necklace which belonged to Queen Maria-Christina of Spain, and which later belonged to Emmanuella de Dampierre, Duchess of Segovia, wife of Infante Jaime of Spain (King Alfonso XIII and Queen Victoria-Eugenia of Spain's second son).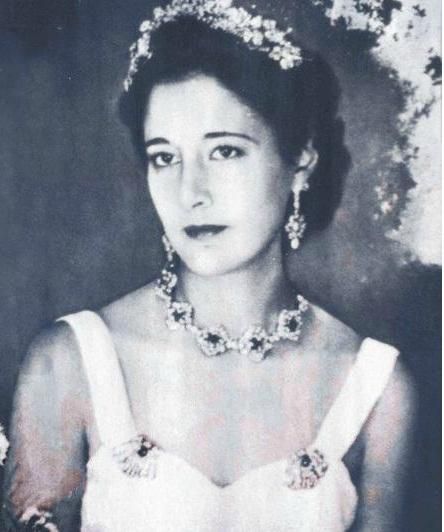 I have sometimes read that the sapphires of this necklace came from the Duchess of Angouleme (daughter of King Louis XVI and Queen Marie-Antoinette of France, and France's "First Lady" from 1814 to 1830, during the reigns of her widowed uncles Louis XVIII and Charles X). But I have never seen any reliable proof of this assertion, and
if
they were indeed from the Duchess of Angouleme, these sapphires would have been private belongings of the Duchess, and not from the State-owned Crown's collection.
According to Christie's (which auctioned the necklace twice, first in November 1998, then again in December 2013), the necklace was made by jeweller Biedermann circa 1850. The Duchess of Angouleme died in 1851, so the sapphire and diamond necklace
could
have been made from stones bequeathed by the childless Duchess to her Habsburg relatives. But this is very much speculation so far.
http://www.christies.com/lotfinder/Lot/an-attractive-antique-sapphire-and-diamond-necklace-1353248-details.aspx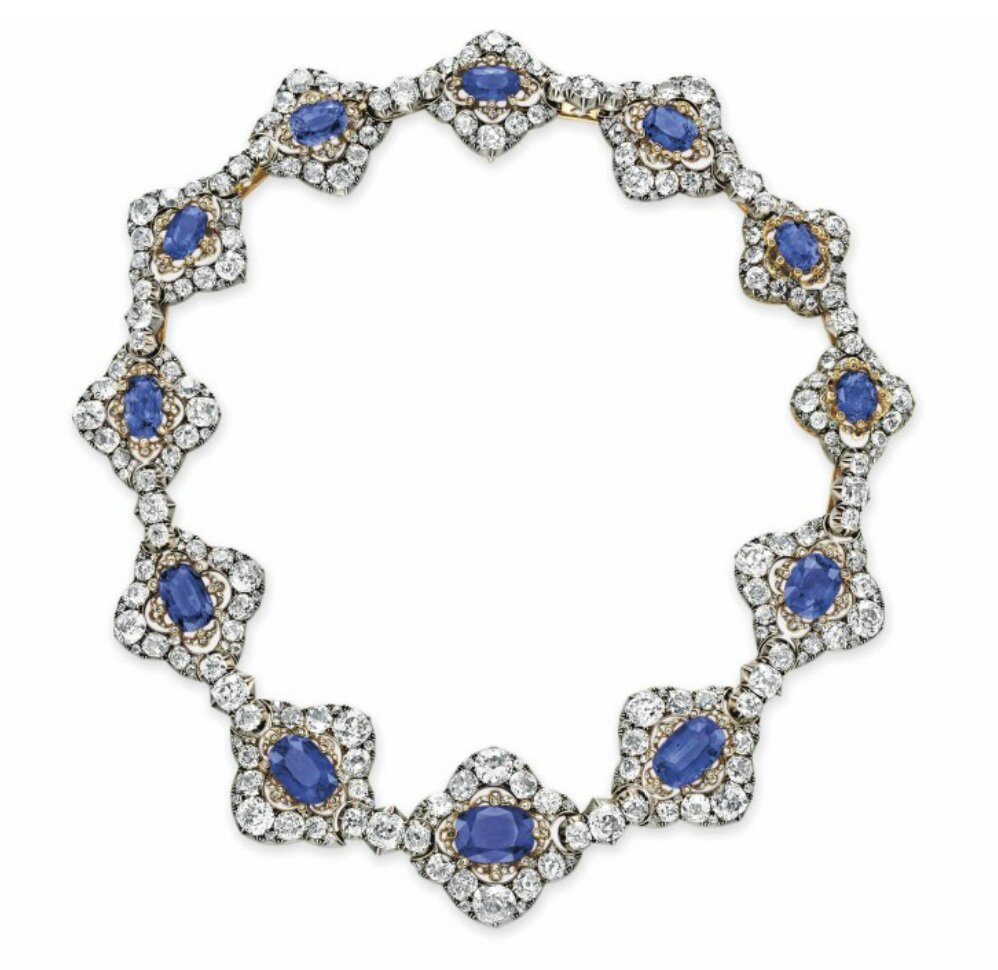 The necklace was displayed in 2014 at the Paris Biennale des Antiquaires by jewel retailer Martin du Daffoy:
http://members2.boardhost.com/royal-jewels/msg/archive/1411118795.html