Thank you Arthur. Another poster contacted me privately with the same information. My sincere thanks to both posters.
The reason why I was interested is that, as late as 29 May 1938, Mrs Greville was reported to have worn her "lesser" emerald necklace to a debutante's dinner and ball.
Sunday Times
29 May 1938.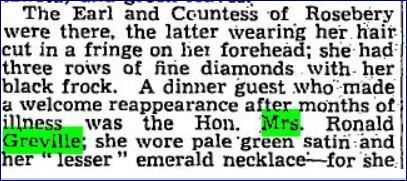 (The rest of the item, published at the top of the next column in the paper) said "for she has two."
I know that Mrs Greville had Cartier remodel her diamond festoon necklace in May 1938 (Roberts page 250) so it is possible that Mrs Greville had her emeralds remodeled after 1911.
But, I wonder. Throughout the years the press carried reports of Mrs Greville wearing 2 emerald necklaces.
Sunday Times
2 December 1934 reception on the eve of the wedding of Princess Marina and the Duke of Kent.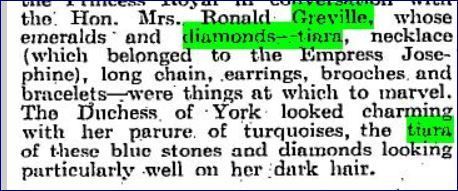 The report above is not in my opinion 100% clear about the composition of the "long chain" but I think it is meant to be composed of emeralds and diamonds.
Another report in the
Daily Telegraph
29 November 1934 describing the same event described Mrs Greville's jewels as

which suggests to me that the chain described in the first report did have emeralds.
The chain of emeralds again
Sunday Telegraph
27 April 1923 for a ball at Landsdown House following wedding of QEQM.
Throughout the 1920s and 1930s there are press reports referring to Mrs Greville's emerald necklace as belonging to Empress Josephine or simply to a magnificent emerald necklace.
It is the fact that after 1911 Mrs Greville still had 2 emerald necklaces, one described as a chain, which interests me as it is possible that QEQM inherited more than one necklace.
I also wonder if the drop emerald earrings and large diamond bracelet with emeralds worn by QEQM might have been Greville pieces.