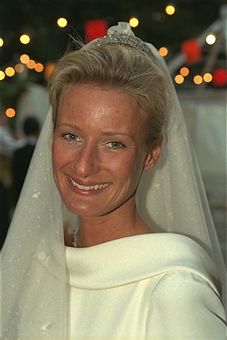 --Previous Message--
: Indeed, i personally think she Will wear her
: Rosen Tiara (a loan from het mother's family
: isn't it?),
:
: I hope to see the laurel tiara worn by the
: late Princess Kristine Bernadotte for
: Madeleine. Was that tiara a tiara once worn
: by Princess Ingeborg? For her daughter, I
: hope to see, the golden bandeau or
: Madeleines wedding tiara or the diamond
: bandeau worn by her sister once.
:
: --Previous Message--
: Indeed, very exciting!
:
: Madeleine Kogevinas usually wears a von
: Rosen tiara for such events, as here for
: Victoria's wedding:
:
:
: I have never seen her daughter Sophie Ullens
: de Schooten with a tiara (she did not wear
: one for Harald's 70 in 2007, nor for
: Princess Martha Louise's wedding in 2002).
: There is a picture from the Norwegian silver
: wedding festivities in 1993 where Sophe is
: again not wearing a tiara, but is walking
: with a blond lady probably wearing a diamond
: tiara, perhaps her sister).
:
:
: --Previous Message--
: A lot of tiaras!!! So exciting!
:
: Curious Wich tiaras countess Madeleine
: Bernadotte and her daughter Will wear.
:
:
:
:
: