Queen Alexandra was occasionally photographed wearing material under her chokers but I suspect that was a fashion trend.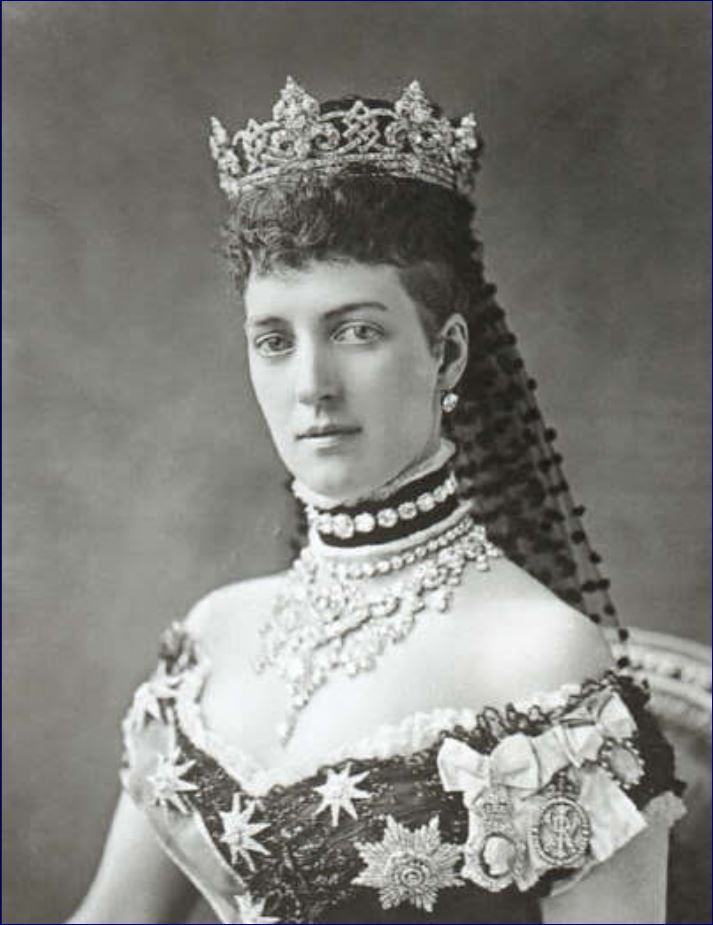 The impression I have gained from media reports is that chokers were worn for the duration of dinners, banquets, balls etc.
Properly constructed items made or adjusted to fit the neck of an individual lady would not have been uncomfortable; certainly pearl chokers are not. Even so, I suspect that Queen Mary and Queen Alexandra would have been willing to cope with discomfort for the sake of their image.
--Previous Message--
: Would the chokers be sewn onto material, if
: not I think they'd be rather uncomfortable
: to wear for a long time, say a dinner or a
: ball? Or they might just be worn for the
: purpose of the photograph or portrait,
: especially the one made up from what looks
: like diamond collett necklaces.
:
: --Previous Message--
: Fabulous! What a great birthday treat for us
: thank you Arthur.
:
: It looks as if the marble carving on HM's
: tomb is based on a 1938 carving which
: depicts Queen Alexandra's tiara with the
: same very wide diamond bars and QA's pearl
: brooch as a pendant to the diamond necklace.
: The National Portrait Gallery UK has a 1960
: reproduction of the 1938 art work, which is
: in the Royal Collection.
:
:
http://www.npg.org.uk/collections/search/portrait/mw04284/Queen-Mary
:
: Edit: The bronze in the Royal Collection
:
:
https://www.royalcollection.org.uk/collection/2013/queen-mary-1867-1953
:
: Apologies that I cannot post images.
: Photobucket is being disagreeable again
: today!!
:
:
:
:
: