It is really difficult to find clear pictures of the upper gallery of the Abbey's choir during the 1937 Coronation. Obviously, the lower gallery, packed with the major members of the Royal family, was a bigger focus of the attention for the photographers...
The better picture I could find, so far, is this one, from Alamy's website:
An enlarged picture of the upper gallery gives the following result. I suppose that Mrs Greville is the first lady on the left of the third row, but even with this enlarged picture, I can't identify which head ornament Mrs Greville (if she is Mrs Greville) is wearing: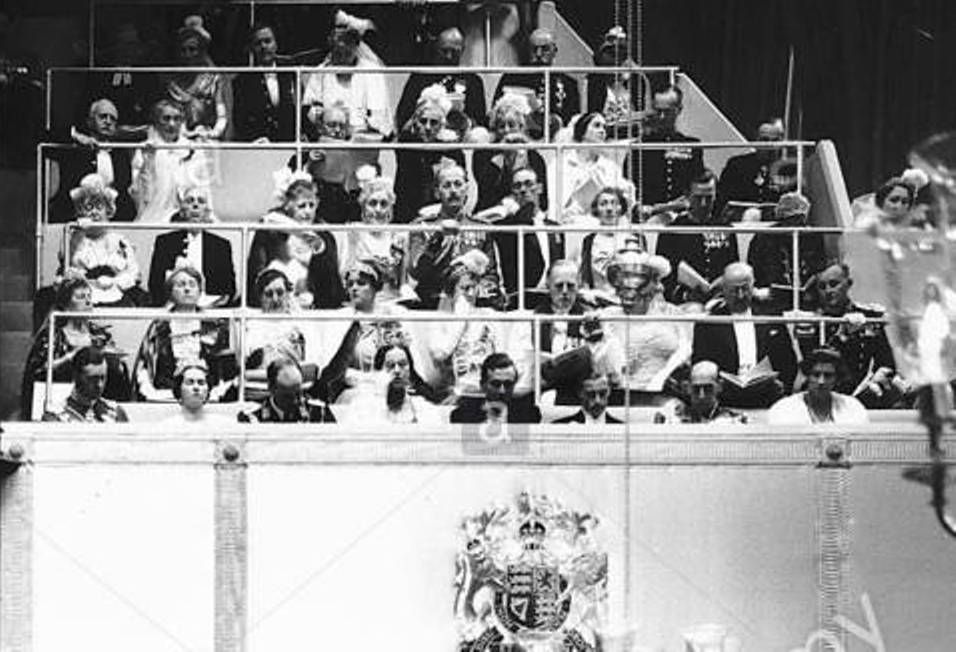 On the left of the first row, I think we can see Prince Gustaf Adolf and Princess Sibylla of Sweden (the parents of current King Carl XVI Gustaf of Sweden). I guess that Princess Sibylla is wearing Empress Joséphine's Cameo tiara. Can anyone identify other guests?
Other of the royal guests were seated in the stalls of the choir of the Abbey: Crown Prince Olav of Norway (later King Olav V) and Crown Princess Märtha (wearing Queen Josefina of Sweden's emerald parure), Crown Prince Gustaf Adolf of Sweden (later King Gustaf VI Adolf) and Crown Princess (later Queen) Louise (wearing the large Braganza diamond tiara), Crown Prince Frederik of Denmark (later King Frederik IX) and Crown Princess (later Queen) Ingrid (wearing the Pearl Poire tiara?) and Prince Regent Paul of Yugoslavia and Princess Olga (wearing the ruby and diamond laurel parure, now with Queen Anne-Marie of Greece):