Very interesting photo thank you Knightship. I have never seen this necklace before.
Re Paris 1907.
After the lunch at the Norwegian Embassy one of the items on the official agenda was the visit to the Hotel de Ville where the Queen was presented with the sautoir.
As far as I can see from the newspapers, HM did not return to change her attire, so I am assuming that she wore the same dress and jewels for all the functions that afternoon. If so, then the item appears to have been a longish necklace.
A rather blurry photo of HM leaving the Hotel de Ville.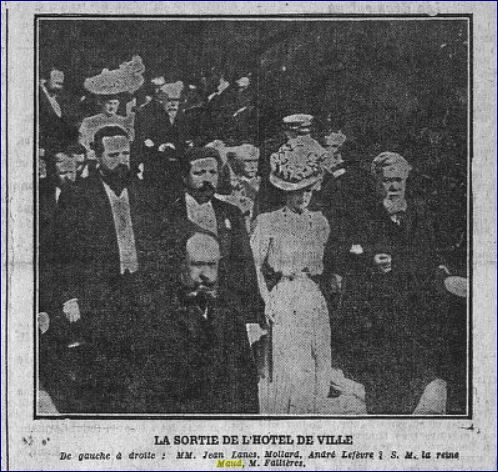 I wonder if the emerald necklace worn in Paris might be this one? It seems to me that the necklace shown below might contain cabochon emeralds, but I admit I am guessing.
--Previous Message--
: Could it be this unidentified emerald necklace
: princess Ragnhild wore in 1987 at crown
: prince Harald's 50th birthday?
:
:
:
http://scanpix.no/spWebApp/preview/editorial/sx13a316
:
:
: --Previous Message--
: In one of the French newspapers I found this
: report-
:
:
: Le Constitutionnel 31 May 1907
:
:
:
:
:
:
: