I hope I have understood your post correctly Andrew.
I think that Princess Beatrice was able to wear the tiara in 3 forms: as the Greek key tiara, as the Sunray tiara (as worn by Queen Victoria) and as a combined tiara formed by the 2 jewels.
It would appear that she wore the combined tiara for the 1902 Coronation, but when she first did this is unknown to me, as the press normally only mentions that she wore a ruby and diamond or a diamond tiara.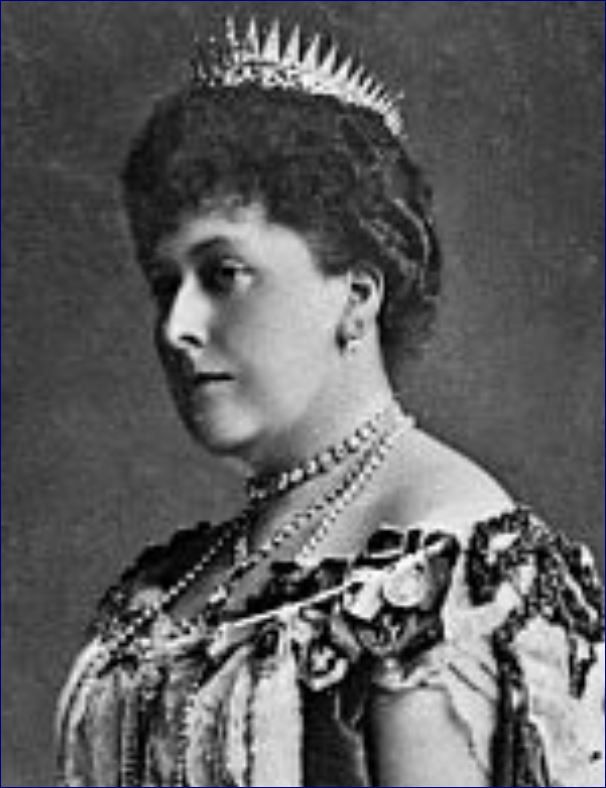 --Previous Message--
: I have analyzed these photos in the past for
: hours. As a child we had this image on a
: plate or something and it was my first
: fascinating glimpse of a tiara.. Queen
: Victoria's is partially hidden by her veil.
:
: What I have always questioned were the dates
: from this book. The painting was finished in
: 1912 but the photo was 1911? Does
: "finished" mean it was started
: before the upper spikes were added? Why
: would she change the tiara while the painter
: was not finished? Why wouldn't it be added
: to the painting? Maybe it is
: detachable.....can we zoom in to see if
: Victoria has the Greek Key part hidden by
: her veil?
:
: The same goes for the images in the book
: regarding the Strawberry Leaf tiara and its
: rubies and addition of the lower gallery.
: The dates seem off.
:
:
: --Previous Message--
: Queen Victoria's fringe tiara seems to be
: shorter in length than that of Princess
: Beatrice's. Are you sure it's the same
: fringe tiara?
:
: --Previous Message--
: I had never seen the full set of pictures
: from
: that photo session. I had also never
: realized how much Princess Beatrice
: resembled Queen Victoria. The profile photo
: especially. The same droopy eyelids, same
: aquiline nose, same weak chin, etc.
:
:
:
:
:
:
: