A number of the press reports state that Queen Alexandra wore a royal crown, which I think refers to her own personal regal circlet. A few, like the one below from the
Belfast News-Letter
18 May 1914 provide clear evidence that it is her own regal circlet and that inside the circlet HM wore Queen Victoria's small diamond crown.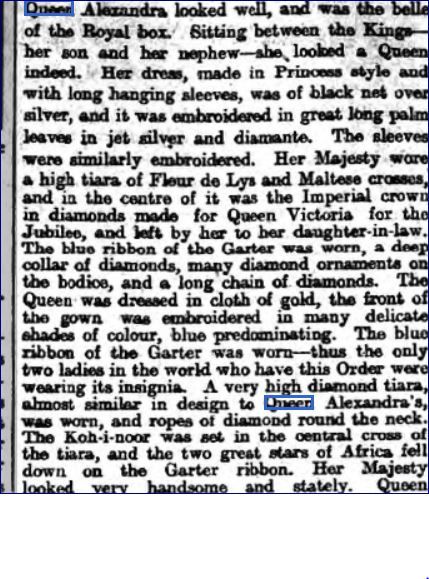 This is the same configuration which Queen Alexandra wore for the Fife wedding in 1913 and on many other occasions after she became Queen.
Fife wedding 1913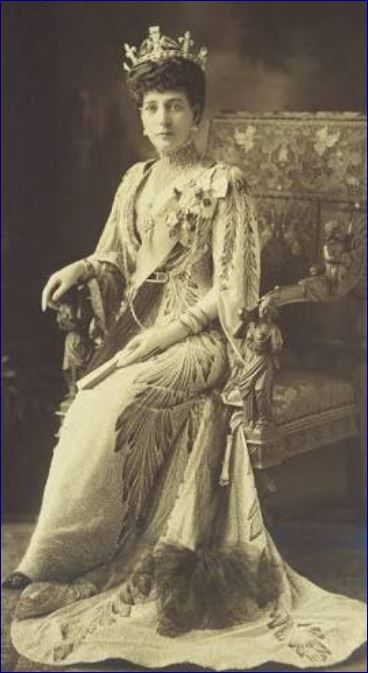 The description of the "long chain of diamonds" in the
Belfast News-Letter
may refer to the same jewel which she wore to Fife wedding. HM's dress, as described by the same paper and others, seems very similar to (if not a mirror copy) the one worn for the wedding - in the latter it was white with black highlights.
Sorry, to avoid confusion, I should have posted an item which clearly identified Queen Alexandra's tiara yesterday.
--Previous Message--
: I think it looks rather like Queen Alexanra
: is also wearing the Rundell tiara.
:
: The sapphire necklace could be the Tsar
: & Tsarina's anniversary choker just lost
: in the mass of necklaces Alexandra is
: wearing. Then with the Ladies of Bristol
: necklace hanging from the long diamond
: riviere further down necklace..
:
: I think the pic is a also sketch/ttouch-up
: and we know how reliable they can be.
:
: --Previous Message--
: Queen Alexandrine´s tiara reminds a little
: the
: tiara worn by her mother at the coronation
: of Emperor Nicholas of Russia in 1896. Se
: the big groupphoto of the royal ladies.
:
: --Previous Message--
: When I was hunting for information about the
: jewels worn by Queen Alexandrine at the gala
: opera performance, I noticed that none of
: the other papers mentioned that Queen
: Alexandra wore a sapphire necklace.
:
: I wonder if I incorrectly interpreted the
: description in The Times 12 May 1914 of
: Queen Alexandra wearing "a diamond and
: a sapphire necklace" ?
:
: Other descriptions of Queen Alexandra's
: necklace mention a pendant, although no
: coloured gemstone is mentioned. For example
: The Daily Telegraph 12 May 1914 --
:
:
: I suspect that HM may have worn one of her
: colliers resille, perhaps with a sapphire
: pendant. Queen Alexandra is reported to have
: have had at least 2 large sapphires, so it
: is a possibility. (one which springs to mind
: is the Ladies of Bristol sapphire pendant;
: the other is a large sapphire brooch she is
: said to have worn) Of course HM may have
: worn only diamonds and the mention of a
: sapphire in The Times may be a mistake.
:
:
:
: Ladies of Bristol pendant.
:
:
:
:
:
:
:
: