Re: Couple of Questions for Nellie
Posted by Nellie

on April 29, 2012, 2:51 am, in reply to "Couple of Questions for Nellie"
124.148.153.63

H Dawn. How amusing ! I shall see how many pics I can find that might fit your needs !!
I assume other people can join in here too.
Both ladies wore brooches on their hats so often.

While I search, here is one to enjoy, which we used to refer to as road kill.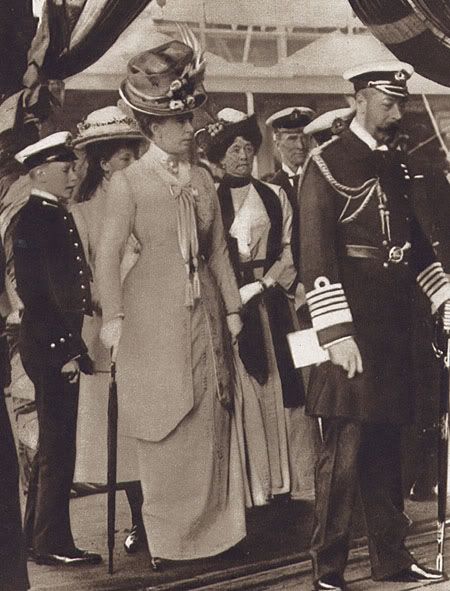 --Previous Message--
: Earlier this evening, I was browsing through
: one "Diamond Jubilee"
: commemorative "book" (the new one
: out on sale at a bookstore) in which it has
: a lot of pictures. I did not buy that one,
: though.....just browsing thru it.
:
: Anyway, I have a couple of questions for
: you, Nellie. There are two separate pictures
: of Queen Mary (with two little princesses
: and one or both of their parents) at the
: Trooping of the Color parades in 1931 (shown
: in a carriage, I think) and 1935 (on the
: palace balcony). Both pictures show Queen
: Mary wearing her hat [not sure if it's the
: same hat at both times or different
: hats....those were black and white photos)
: but she had this brooch on the front side of
: her hat in both photos and this was the same
: brooch both times.....I looked at it closely
: and it looked like a "Prince of Wales
: feathers" with the crown at the top of
: it. Also, I noticed that one of those photos
: showed the Duchess of York (as the Queen
: Mother was then) having had a diamond brooch
: on the front of her hat, too, but it's not
: too distinctive enough for me to describe it
: to you right now. Do you have such pictures
: you could post here for me to see?? If you
: do, please, please?? Thanks! I am putting
: these questions for you since you are the
: most devoted Queen Mary fan here.
:

---