Re: Eugénie's emeralds
Posted by Beth
on August 19, 2017, 5:28 pm, in reply to "Eugénie's emeralds "
The provenance of Mrs Greville's collection is something which warrants further investigation. Oh to be able to consult various jewellery firms' and auction houses' ledgers!! What a treasure trove they would be!

I suspect that many of Mrs Greville's gems were originally gifts from her father. Apart from the reports of his gifts to her at the time of her wedding, from time to time the press reported that he gave her jewels. He also provided his wife with diamonds which the press commented upon.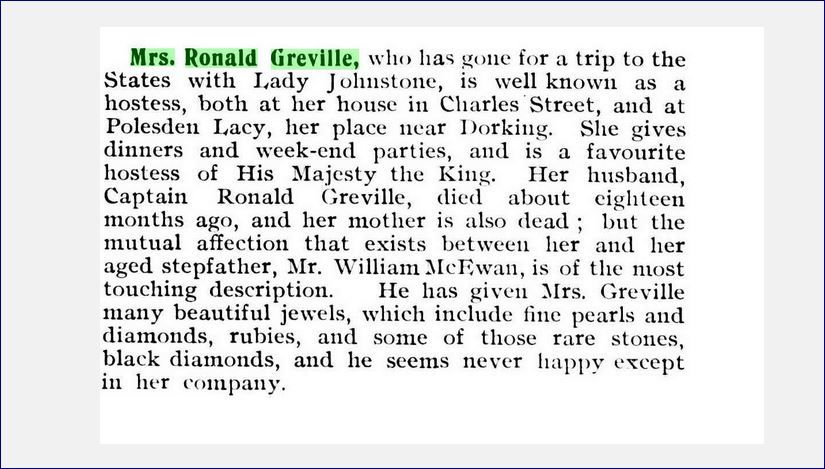 Mrs McEwan's diamonds.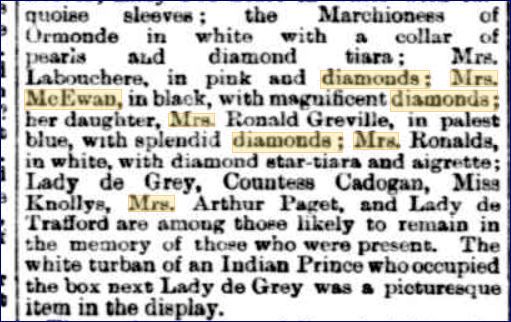 The possibility that her emeralds may have originally belonged to the Empress Eugenie is intriguing, and in my opinion more likely than the Empress Josephine or Queen Marie Antoinette stories, but such a provenance would lack the aura of romance associated with Josephine and Marie Antoinette. Of course the alleged provenance may be a total myth.

--Previous Message--
: Dear Beth,
:
: Te article you posted is very interesting.
: It mentions a provenance for Mrs Greville
: Emeralds (I guess the necklace which we have
: not seen for years). The provenance would be
: Eugénie, empress of the french and wife to
: emperor Napoléon III.
: To me, this makes a lot of sense. Much more
: thant the traditional provenance given to
: those emeralds : empress Josephine or even
: Marie Antoinette. Empress Eugénie jewels's
: auction at Christie's in 1871 includes many
: emeralds and it would make a lot of senses
: that some of these emeralds would have been
: set on a necklace, given to, or, bought by,
: mrs Greville, at one point.
: This would give a new interesting and much
: more possible imperial origin, to a necklace
: belonging to the British Royal Family. Even
: if we have no idea of where that necklace
: exactly is today.
: Thank you so much for all those interesting
: posts, that one, has open a lot of thinking
: for me.
: Best
: Vincent
:

---