Re: I thought it was the King?
Posted by Beth

on August 14, 2017, 3:21 pm, in reply to "I thought it was the King?"
That is a commonly held belief; however, I think that the lack of Courts, State banquets, State Visits etc during the war years precluded the wearing of grand jewels such as the Greville diamond tiara and the diamond or emerald necklaces etc. I have never seen any discussions by the various biographers who had access to the royal papers suggesting that George VI had reservations about accepting such a gift from a subject. Queen Mary's reference to the fact that Mrs Greville did not leave George VI Polsden Lacey suggests that perhaps the King and Queen had expected Mrs Greville to do so.

I have not done a full search of the comments in the press about reactions to Mrs Greville's bequest to QEQM but I do have one which openly stated that, due to the war, the Queen might not be seen wearing the jewels immediately.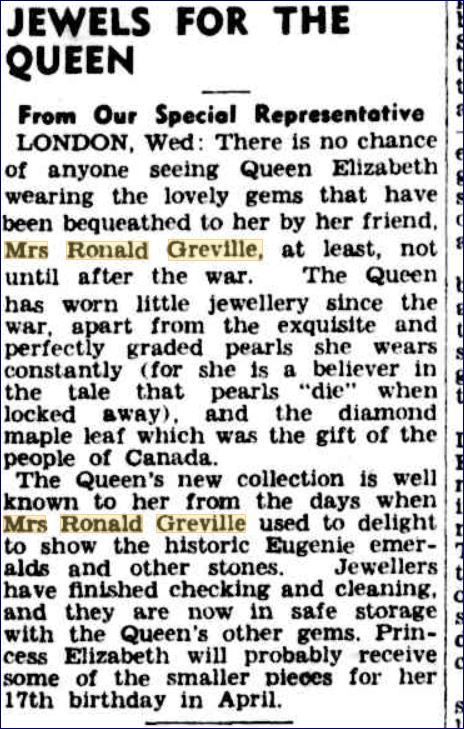 The visit to South Africa in 1947 was the first opportunity QEQM had to wear grand jewels. From then on we can trace the wearing of Mrs Greville's jewels very openly, even on grand occasions such as State Visits, the Opening of Parliament etc.

Edited to fix typo.

--Previous Message--
: I thought the king was reluctant to except the
: jewels and that it took awhile for the King
: to let the Queen mother jewels gifted. I
: don't remember if was this board or a book I
: read that mentioned it.
: PJ
: --Previous Message--
: I apologies if this idea has been put
: forward
: before but I have a theory as to why Queen
: Elizabeth may not have worn the Greville
: jewels before 1947. She simply didn't have
: them.
:
: When Mrs Greville died in 1942 it was the
: height of the war. The war was now turning
: against Germany but this is only known for
: certain retrospectively.
:
: Having learn't the lessons of the Romanov's,
: Romians and Milford Haven's you don't keep
: your egg's in one basket. Not only the
: crown jewels but I would imagine the
: majority of the jewel collection was
: scattered around the country in case of an
: invasion. An invasion from which direction
: no one could really know.
:
: With the Dutch royal family living in modest
: circumstances in Canada what better jewels
: to try and ship over to the US, Canada or
: South Africa than the Greville piece's.
: They could then easily be broken down or
: sold piecemeal as required to keep the
: exiled royals in befitting circumstances or
: help fund a resistance. Also at this point
: there is no royal provenance or emotional
: attachment if they were lost at sea Also
: no one would probably notice them in an
: overseas sale if required in the middle of
: WWII.
:
: The jewels could have been separated up and
: then would all have been shipped over on the
: same convoy as I'll explain.
:
: When U-Boats attack a convoy with a Navy
: escort and you can bet your bottom dollar if
: this theory holds water they will have had
: an escort. The U-boats usually only the
: manage to sink or target one or two of the
: ships before the Naval ships from the escort
: go in pursuit. The rest of the convoy is
: under orders to sale on and not even stop to
: pick up survivors. Obviously some may have
: been on the Naval ships.
:
: This way some, the majority or all would
: have reached their destination to support an
: exiled royal family, royal families who are
: not on the losing side have very poor
: retention records) or just the Princess's as
: they'd have be first or the only one's out.
:
: At the end of the war in 1945 Britain
: elected it's most socialist government ever,
: also a number of Allied thrones toppled in
: this period. With the UK royal's having one
: of the largest jewel collection's ever it's
: not like they needed to repatriate them
: immediately. They were short of jewels and
: known pieces for morale and discretion
: purposes looks a lot better then new pieces
: suddenly appearing during mass austerity...
:
: Once things are calmed down the jewels can
: be safely returned. Some might have been
: lost unfortunately on the way over.
: Interestingly I believe the current Queen
: holds quite a bit of real estate in the US
: which could have been funded by a part sale.
: Maybe some are in a safety deposit box
: still overseas.
:
: Only a theory...
:
:
:
:
---