Like you I enjoyed the issue too... it's Great to see Sam's life going in the right direction!!! Speaking of direction, the issue's misdirection with the movie got me, I thought "what's going on...who are these folks" only to find out it's not real. A non-reality within the real comic book universe's GREATER non-reality... hmmm... am not sure what am saying... but... I liked it
. It's also nice to see Sam's interaction with family & friends and doing well in school now that the missing pieces within his family life are back in place (or they...?). I think families need a good dad at home, kids need that... well at least Sam seems to ( just my opinion). The fire scene was cool... (can one say that?), looking for folks in trouble only to find a little kitty cat to rescue. Am fond of little heroic deeds sprinkled throughout a story, not every action has to be GREAT like saving Earth or life as we know it (well for me anyway). If anything about this new series makes me sad, it's that Sam's life looks like it's about to take another hit. The guy never get a break (for long) in or out of his comic.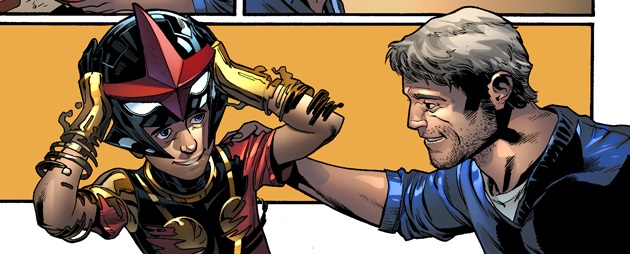 --Previous Message--
: I know this is off your topic but it's on top
: with Issue 1,
:
: I really enjoyed reading this issue. It gave
: me the same vibe from when I read the 1st
: issues from Classic Nova Vol 1.
:
: The way Sam interacted with his class mates
: reminded me of Rich's interactions with
: Bernie and Caps.
:
: --Previous Message--
: So some of my speculations have been
: confirmed.
: - The voice in the last two panels, either
: Worldmind is back or he built another
: computer. Maybe Jesse might be (last)
: Xandarian, possibly from Engineer caste or
: Nova Corps' expectations for its members to
: maintain their equipment.
: - Either Sam's helmet is allowing him to get
: less sleep or he might be part alien with
: "space physiology" (maybe Kaelynn
: is too young to properly show up). Note that
: only Kaelynn and Sam are able to use the
: helmet and possibly Nova force sliver
: (depends how much of ordinary Xandarians are
: exposed to Worldmind's energy) might play a
: role.
: Well, I kinda make this thread on whether my
: theories are becoming true.
:
:
: